Appears in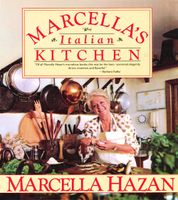 Ingredients
2 ounces pancetta or bacon
½ cup leaves from the tops of the celery heart
2 bay leaves
1 pound ground veal shoulder
1 egg
Salt
Black pepper in a grinder
1 cup fine, dry, unflavored bread crumbs, toasted lightly in a pan as described
4 tablespoons butter
1 tablespoon vegetable oil
½ cup dry white wine
Method
In a food processor, or by any other method, chop the pancetta or bacon together with the celery leaves and bay leaves. Chop to a very fine consistency, making sure no long, sharp bits of bay leaf remain.
Combine the chopped pancetta or bacon mixture with the ground meat, adding an egg, about 1 teaspoon of salt, and several grindings of pepper.
Knead the meat with your hands to amalgamate all the ingredients thoroughly. Shape the meat into a roll about 6 to 7 inches long and 4 inches thick.
Spread the bread crumbs on a length of wax paper or aluminum foil. Roll the meat over the bread crumbs so that the crumbs will cover it and adhere to it all over.
Choose a lidded pot that can subsequently accommodate the veal roll with enough room for it to be turned. Put in the butter and oil and turn on the heat to medium high.
When the butter foam subsides, put in the meat, keeping the pot uncovered. Brown it well on one side, then turn it over. Turning it requires care to avoid breaking up the roll. Try using a spatula in either hand and handle it very gently.
When the meat has been browned all over, add the wine. Let the wine bubble for about 1 minute, then turn the heat down to minimum and cover the pan, leaving the lid slightly askew. Cook for about 1 hour, turning the meat gently from time to time.
Transfer to a serving platter. Let the meat rest for a few minutes, then slice it. Pour the pan juices over it and serve. It is equally good hot, lukewarm, or at room temperature.