Appears in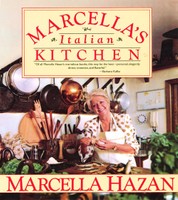 Ingredients
8 yellow onions, 3 to 3½ inches in diameter, about 1½ pounds
2½ ounces pancetta, chopped fine
2 tablespoons chopped parsley
1 teaspoon chopped garlic
8 flat anchovy fillets, chopped fine
2 tablespoons tiny capers
5 tablespoons extra virgin olive oil
2 tablespoons fine, dry, unflavored bread crumbs, toasted in a pan as described
Method
Turn on the oven to 400°.
Peel the onions and drop them into a pot of boiling water. Cook for 10 to 12 minutes, depending on their thickness, then drain them.
Combine the pancetta, parsley, garlic, anchovy fillets, and capers. (If the capers are not the tiny variety, chop them a little first.)
Cut the onions in half across their width. Remove their centers, gutting the onions of half their rings. Chop the gutted rings very fine and add to the pancetta, parsley, and mixture. Add 1 tablespoon of the olive oil and mix thoroughly.
Choose a baking dish in which all the onion halves can fit comfortably and smear the bottom with 1 tablespoon of the olive oil. Place the onions cut side up in the dish and fill their center hollows with the chopped onion and pancetta mixture. Sprinkle the bread crumbs uniformly over the onions and trickle over them the remaining 3 tablespoons of olive oil. Bake in the uppermost level of the preheated oven for 45 minutes. Serve when lukewarm.