Appears in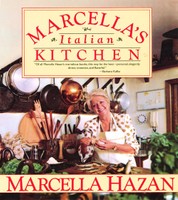 Ingredients
1 pound pearl onions (tiny white onions)
2 tablespoons extra virgin olive oil
1 tablespoon butter
6 ounces pancetta, cut into very narrow strips
1 teaspoon whole fresh or chopped dried rosemary leaves
2 tablespoons wine vinegar
Salt
Black pepper in a grinder
Method
In a saucepan bring enough water to a boil to cover the onions. When the water reaches a rolling boil, put in the onions. Cook for 5 minutes after the water returns to a boil, then drain. As soon as the onions are cool enough to handle, peel them and cut a cross into the root end.
Choose a lidded skillet or sauté pan that can subsequently accommodate all the onions without crowding them. Put in the olive oil, butter, pancetta, and rosemary and turn on the heat to medium high. Cook the pancetta in the uncovered pan until it is lightly browned but not crisp.
Add the onions and cook these until they are also lightly browned, turning them from time to time.
Add the vinegar, salt, grindings of pepper, and ⅓ cup of water. Turn the onions once or twice, then cover the pan and turn down the heat to low. Cook until the onions are tender, turning them occasionally. If the onions are not truly tiny, it will take a little longer for them to cook and you may need to add water from time to time; do not, however, add any more than ¼ cup of water at one time, or the onions will cook with too much moisture, becoming soggy and losing intensity of flavor. Serve at once.