Appears in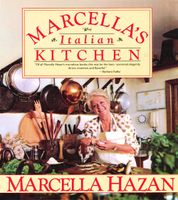 Ingredients
2 pounds eggplant, preferably skinny ones, but at most no thicker than 3 inches
Salt
1 teaspoon chopped garlic
1 teaspoon chopped rosemary
Black pepper in a grinder
½ cup extra virgin olive oil, or more as needed
Method
Rinse the eggplants in cold water, trim away the green stem, and cut them in half lengthwise.
Cut the exposed eggplant flesh in a crisscross diamond pattern, but do not cut through the skin. Sprinkle the cut sides liberally with salt and stand them along the side of a deep colander. Place the colander in a bowl or basin and let the eggplants rest for 30 to 45 minutes to allow their bitter juices to drain away.
When the eggplants go into the broiler later, they should not be much closer than 12 inches to the heat. If the lowest grooves on which the broiler pan rests do not permit you to grill at that distance from the heat, place the pan directly on the bottom of the broiler. Turn on the broiler.
Squeeze the eggplant halves gently, forcing any remaining liquid to run off.
Spread the crisscross cuts slightly open and force into them a little garlic, rosemary, and a grinding of pepper. Pour part of the olive oil in a thin stream, guiding it into the cuts so that it seeps into the eggplant. Place the eggplants cut side up on the griddle of the broiler pan.
After 7 to 8 minutes, baste the eggplants with a little more olive oil, particularly those that may be drier than others. Repeat the operation after another 7 minutes. After 2 to 3 minutes, test for doneness with a fork. The eggplants are done when their flesh becomes creamy tender. They may be served piping hot, lukewarm, or at room temperature.