Appears in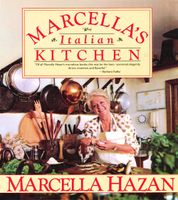 Ingredients
4 large sweet red bell peppers
½ cup extra virgin olive oil, plus 1 tablespoon for greasing the baking pan
1 teaspoon garlic chopped fine
3 tablespoons chopped parsley
¼ pound fontina or Emmenthal cheese, grated to yield about 1 cup
⅓ cup fine, dry, unflavored bread crumbs, plus 2 tablespoons
½ teaspoon thyme
Salt
Black pepper in a grinder
5 small zucchini, scrubbed thoroughly clean and sliced into the thinnest possible rounds
Method
Turn on the oven to 400°F.
Peel the peppers with a swivel-action peeler, using a side-to-side sawing motion and a light touch. Cut the peppers into sections at least 2½ inches broad or in halves. Following the peppers' creases when you cut will help you obtain boat-shaped sections. Remove the seeds and core.
Choose a bowl ample enough to accommodate all the sliced zucchini later. Put in ¼ cup of the olive oil, the chopped garlic, parsley, grated cheese, the ⅓ cup of bread crumbs, the thyme, salt, and grindings of pepper. Mix well, then add the sliced zucchini. Stir thoroughly to coat all the zucchini surfaces with the mixture.
Stuff the sectioned peppers with the zucchini, filling them generously to make a nicely rounded mound.
Choose an oven-to-table dish in which the peppers will fit in a single layer, grease the bottom with 1 tablespoon of the olive oil, then put in the peppers, stuffing facing up. Over the peppers sprinkle the 2 tablespoons of bread crumbs and pour the remaining ¼ cup of olive oil, in a thin stream.
Bake in the upper third of the oven, until the peppers are tender and the surface of the zucchini stuffing has formed a nice brown crust, about 45 minutes.
Serve when no longer piping hot, or even at room temperature.