Appears in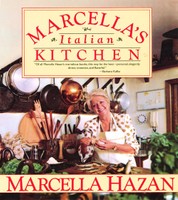 Ingredients
2 pounds ripe, but firm tomatoes
1 sweet bell pepper, preferably yellow, but if unavailable, red
8 to 10 fresh basil leaves, chopped to yield 2 tablespoons
1 teaspoon chopped garlic
¼ cup capers
5 tablespoons fine, dry, unflavored bread crumbs, toasted lightly in a pan as described
⅓ cup extra virgin olive oil
Salt
Black pepper in a grinder
Method
Cut the tomatoes in half horizontally and scoop out all the seeds.
Cut open the pepper and remove the stem, the whitish core, and all the seeds. Cut it into ½-inch squares and put these in a bowl.
Add the basil, garlic, capers, 3 tablespoons of the toasted bread crumbs, 2 tablespoons of the olive oil, salt, and grindings of pepper. Mix well and let steep for at least 30 minutes or up to 1½ hours.
Turn on the oven to 400°F.
Choose a shallow baking pan large enough to hold the tomatoes in a single layer. Grease the bottom of the pan lightly with olive oil and place the tomatoes on it cut side up.
Stuff the tomatoes with the marinated pepper mixture from the bowl, heaping it high enough to form a little mound. Over them sprinkle the remaining bread crumbs and olive oil.
Place the pan in the uppermost level of the oven. Bake for 45 to 60 minutes, depending on the size of the tomatoes. They must lose most of their moisture, and the tops should become a golden brown color. It is perfectly all right if the skin becomes partly blackened, because when you eat them you will scrape off the flesh that is easily loosened from the skin. Serve at room temperature or slightly warm.