Appears in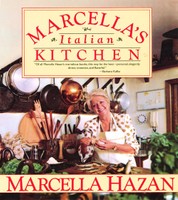 Ingredients
1½ pounds fresh, young zucchini, soaked in water for 20 minutes
4 tablespoons extra virgin olive oil
2 tablespoons butter
⅓ cup onion chopped fine
⅓ cup chopped parsley
1 bouillon cube, crumbled
Salt
Black pepper in a grinder
2 teaspoons thyme
Method
When the zucchini have soaked the recommended amount of time, wash them in several changes of cold water, rubbing them with your hands or with a stiff brush to dislodge all grit.
Trim away both ends from each zucchini and cut into sticks about 3 inches long and ½ inch thick.
Put the oil, butter, onion, and parsley in a sauté pan and turn on the heat to medium. Cook, stirring from time to time, until the onion wilts, but without letting it become colored.
Add the zucchini sticks, the crumbled bouillon cube, a pinch of salt, grindings of pepper, and thyme. Stir well and cover the pan. Cook, stirring occasionally, for 20 to 30 minutes, depending on the youth and freshness of the zucchini, until they are tender. Serve at once or even lukewarm.