Appears in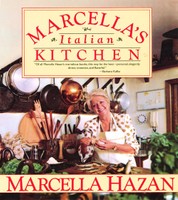 Ingredients
1½ pounds firm, young zucchini, soaked in water for 20 minutes
⅓ cup extra virgin olive oil
1½ cups onion sliced very thin
¼ pound bacon, cut into strips ⅛ inch wide
Salt
Black pepper in a grinder
Method
When the zucchini have soaked the recommended amount of time, wash them in several changes of cold water, scrubbing their skin with your hands or with a stiff brush to dislodge all grit. Trim away both ends from each zucchini and slice the zucchini into disks about ¼ inch wide.
Choose a lidded sauté pan that can subsequently accommodate all the zucchini rather snugly. Put in the olive oil, onion, and bacon and turn on the heat to medium high. Cook, stirring from time to time, until the onion becomes colored a pale gold.
Add the zucchini, turn them over once or twice, cover the pan, and turn down the heat to medium. Cook for 12 to 15 minutes, uncover the pan, add a little salt and a few grindings of pepper, and cook for another 2 to 3 minutes in the uncovered pan, stirring frequently. Serve promptly.