Appears in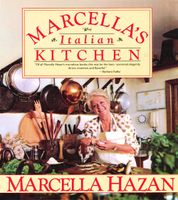 Ingredients
2 pounds young, firm zucchini, as small as possible, preferably 1 inch in diameter
⅓ cup extra virgin olive oil
4 medium garlic cloves, peeled and cut into thin disks
7 or 8 fresh sage leaves, or 4 or 5 dried leaves, chopped
1 cup dry white wine
Salt
Black pepper in a grinder
Method
Soak the zucchini in cold water for 20 minutes.
Wash them in several changes of cold water, rubbing them with your hands or with a stiff brush to dislodge all grit.
Trim away both ends, split the zucchini in half lengthwise, then cut them into thin, short sticks about ½ inch thick and 3 inches long.
Choose a sauté pan large enough to contain all the zucchini later with little or no overlapping. Put in the oil, garlic, and sage leaves and turn on the heat to high. When the oil is very hot, add the zucchini. Cook, stirring frequently, until the zucchini become lightly colored. Altogether, this step should take less than 3 minutes.
Add the wine, ¼ cup at a time, turning down the heat to medium high. Stir frequently, adding more wine as it evaporates. Sprinkle with salt and grindings of pepper. Cook until the zucchini are tender but still firm and their surface becomes glossy and all the wine and any watery liquid have evaporated. Serve immediately.