Appears in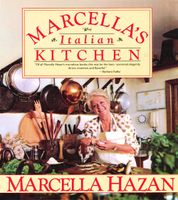 Ingredients
3 pounds watermelon (gross weight with the rind), or 2 pounds net weight with the rind removed
¾ cup granulated sugar
¼ cup freshly squeezed lemon juice
Method
Cut away and discard the watermelon rind. Cut the watermelon into 1-inch cubes, picking out all the seeds.
Put the watermelon with the sugar and lemon juice in a food processor or blender and blend until liquefied.
Strain the liquid through a medium mesh strainer and freeze in an ice cream machine according to the manufacturer's instructions.