Appears in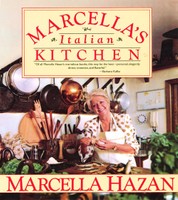 Ingredients
½ cup orange peels, soaked in water for 36 hours as described below
6 ounces shelled almonds peeled as described
2 teaspoons vegetable oil
1 cup granulated sugar
A washed, unpeeled potato, cut in half
Method
Prepare the orange peels, taking care, as you peel the oranges, not to cut into the white pith beneath the skin, which is bitter. Soak the peels in a bowl filled with cold water for 36 hours, changing the water 5 or 6 times. Drain and dry thoroughly with kitchen towels.
Turn on the oven to 400°F.
Spread the peeled almonds on a baking sheet and dry them in the oven for 2 to 3 minutes.
Chop the almonds and orange peels together, using a food processor or blender. Do not overchop. The consistency ought to be coarsely granular and ricelike, not powdery.
Unroll a 2-foot length of heavy-duty aluminum foil and lay it flat on a work counter, marble if possible. Grease the surface lightly but evenly with the tip of a towel or a brush dipped into the vegetable oil.
Put the sugar in a light saucepan together with 2 tablespoons of water and turn on the heat to medium high. Melt the sugar without stirring, just tilting the pan from time to time with a slight rotary motion.
When the sugar becomes colored a medium brown, the shade of walnut, add the chopped almonds and orange peel.
Cook, stirring constantly with a wooden spoon. At first, the mixture will feel stubbornly gummy because the sugar hardens at its contact with the almonds and orange peels, but in a little while, as it begins to simmer, it will liquefy again.
When the liquefied almond and caramel mixture becomes colored a walnut brown again, pour it over the aluminum foil. Cut and pare the potato as in step 3 of the preceding recipe, and use it to spread the mixture evenly and thinly over the foil.
If you want to end up later with regularly shaped pieces of brittle, cut it before it cools into squares, rectangles, or diamonds, as you prefer. When completely cool, the brittle will lift easily from the foil. It keeps indefinitely.