Appears in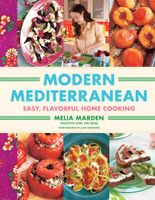 Ingredients
For the Sauce
1 (14-ounce/400-gram) can crushed tomatoes
1 tablespoon extra-virgin olive oil
2 tablespoons finely chopped fresh basil
¼ teaspoon kosher salt
⅛ teaspoon sugar
⅛ teaspoon red chili flakes
Method
Make the sauce: In a small saucepan, combine all the ingredients and heat over medium-high heat. Bring to a simmer and cook, stirring occasionally, for 2 minutes. Remove from the heat and let cool slightly.
Make the pizza: Preheat the oven to 500°F (260°C).
Let the dough sit out until it is at room temperature. Dust a work surface with flour. Knead the dough in your hands until you've formed a smooth ball. Place the ball on the floured surface, dust lightly with flour, and punch down with your fists. Let sit for 5 minutes and repeat the process, resting for a few minutes between repetitions, until the dough is no longer resistant. Lift up the dough and gently stretch it into a rectangle, rotating it to stretch out all the sides. Place the dough over your fists and gently stretch it until you have a thin rectangle about 10 by 12 inches (25 by 30 centimeters). If the dough is still shrinking back and resisting, let it rest a few minutes and repeat until you have the desired size.
Place the dough on a parchment-lined baking sheet.
Slice the zucchini as thinly as possible into rounds; use a mandoline if you have one. The slices should be translucent, about ⅙ inch (2 millimeters) thick.
Spread the tomato sauce on the pizza dough, leaving ½ inch (12 millimeters) bare around the edge.
Place the mozzarella slices in a single layer on the pizza (it's okay if the sauce is not completely covered).
Layer the zucchini slices over the cheese in an overlapping pattern, leaving no uncovered cheese. Brush the zucchini with the oil and season with a little salt and a generous amount of pepper. Bake until the crust is crisp and golden and the zucchini is cooked through, about 15 minutes.
Transfer the pizza to a cutting board. Let cool slightly, then cut into 6 squares.