Appears in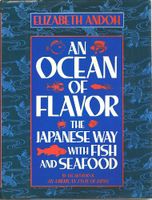 Ingredients
1 package (about 10 ounces) dried soba (buckwheat noodles)
Method
Over high heat, bring a large pot of water to a rolling boil. Scatter the buckwheat noodles across the water, cover, and return to a boil as rapidly as possible. Add the cold water, cover, and return to a boil again. Cook the noodles for 5 minutes, then test a strand: Place it in cold water to cool, then bite it. The noodle should be cooked through but still firm. If necessary, cook the noodles an additional minute or two, then drain immediately. Rinse the noodles under running cold water to remove surface starch. Set them aside to drain.
Prepare the broth: Combine the sea stock, soy sauce, and syrupy rice wine in a saucepan, bring to a boil, and simmer for 2-3 minutes. Remove the pan from the heat and sprinkle in the bonito flakes. Allow the flakes to steep for 3 minutes, or until they begin to sink. Strain the broth through a paper- or cloth-lined colander.
Assembling the dish: Using a microwave oven is the simplest. In each of four microwave-safe deep bowls place one fourth of the noodles, then pour one fourth of the broth over each portion. Cover the bowls with clear plastic wrap, perforate the wrap with a few holes to allow steam to escape, and heat on medium (about 80 percent power or 490 watts) for 1½ minutes.
Remove the bowls from the microwave and set them aside, still lidded with plastic wrap, and line the bottom of the microwave with a double layer of paper towels. Lay the batter-fried shrimp on the paper towels, and then place a single sheet of paper towel over the shrimp. Heat the shrimp on the high setting (full power or 600 watts) for 30-40 seconds. Remove the plastic wrap from the bowls of noodles and place a batter-fried shrimp on top of each.
Sprinkle each portion of soup with some chopped scallions and a pinch of seven-spice powder. Serve immediately.