We lived close to a marae (a New Zealand Maori meeting house) and on some parts of the land I grew up on there were pa (Maori hill forts used during the land wars between Maori and European settlers from 1845 to 1872). This gave me a greater appreciation of the culture of Maori people. My mother, Kaye, had taught us kids about the importance of our country's history.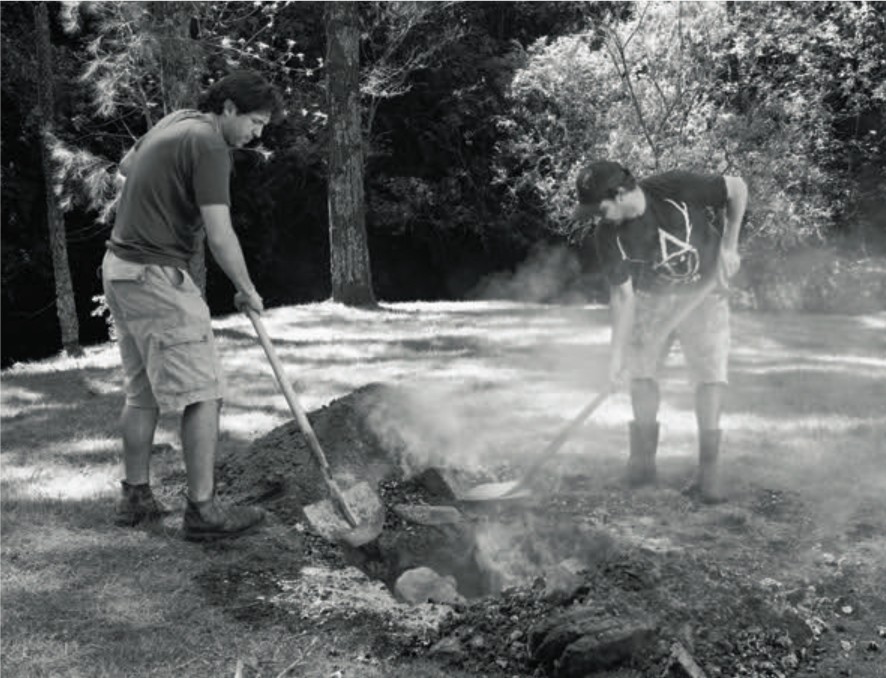 The hangi in particular interested me and would make regular appearances throughout my school life as a means to fundraise at school galas and as a young man at twenty-first birthdays, where it didn't matter how bad it was because half of the party had just finished the yard glass and were in all likelihood completely unable to even tell what it was they were eating, let alone if it tasted any good. Although most hangis are associated with convivial times, there is one particularly grisly event that is printed into my memory and has affected the way I look at live produce.
My Uncle Kerry ran the largest and longest-running folk festival in New Zealand from 1975 to 2005. It was held every year just after Christmas for a week on his sheep and cattle farm in Tahora, a two-hour drive up rough old gravel roads into the Taranaki back country. As a child growing up in the 1980s I would go to the festival and hang out with my older cousin Jason, everyone would camp in tents and it had a real hippy/folksy feel. Each night dozens of musicians would gather and a huge jam session would take place — an awesome spectacle for a young boy from the country. Music aside, food was the other really important part of the festival. Feeding up to 1,500 people out in the back country without any facilities (there were only two long-drop toilets) was always a challenge, so my uncle would lay at least one hangi to feed the hordes.
For one particular festival, when I was about eight, my uncle told a couple of the men to go and kill a 'few geese' for that night's hangi. The flock of wild geese that roamed freely on my uncle's farm were quite numerous and a group of about thirty men and teenage boys gathered to go and hunt them, choosing weapons such as cricket bats and fencing batons. One young guy even had an axe. My cousin Jason and I went with them, with me being the youngest.
I remember the excitement in the air as we headed off. After about a two-hour tramp across the farm, we found the flock of geese trapped up a gully. The memory of what ensued next is crystal clear. Human nature and an overzealous thirst for blood from the hunting party, who were mostly from the city and didn't have much of an appreciation for nature, took over and I stood and watched as the men and older boys attacked the geese in an horrific, frenzied ballet, feathers flying and geese trying in vain to escape.
I had a sick feeling in my stomach, and when the dust settled the whole flock of forty geese had all been slaughtered. I felt like crying and held back tears. My parents, who are loving and gentle and were ahead of their time in regards to the humane treatment of farm animals, had taught my sisters and me that all animals deserve respect Dad wouldn't allow duck shooters on our farm and would 'blow up' if he caught anyone trespassing.
We returned to camp with only five of the forty dead geese; the men were embarrassed and too lazy to pluck the rest, so they just left them lying to rot in the paddock. Jason and I told my uncle what had happened. I can remember the look of wild fury on my uncle's face. He rounded up the guilty and screamed at them, his choice of words were those usually reserved for a sheepdog that had attacked a sheep. He made them tramp back to the gully and pluck and clean every last goose as a punishment. This task took the men hours. Needless to say all I remember about the food of that particular hangi was that there was a lot of goose meat but it was a memory that will stay with me forever.
A couple of years after that episode, I 'laid' my first hangi by myself when I was about ten years old. It contained only potatoes and I was too impatient to allow it the required time to cook and dug it up after only two hours. The potatoes were half raw but I thought it was great.
While I was contemplating a new dish for the menu in 2009, the events and memories of my childhood hangi experiences — of the simple act of digging a pit in the earth, lighting a fire above it layered with volcanic rocks, waiting for the rocks to collapse into the pit, layering the ingredients on top of the rocks and covering it with earth — came to mind.
After four months of trial and error in the kitchen at Attica, where multiple methods, ingredients, temperatures, soils, patience and more than thirty varieties of potatoes were tested, I finally found the 'correct' way to cook the dish.