The story that inspired Sea Tastes is incredibly personal. It was my first experience of articulating a dish around a memory from my youth, and in the early days it was difficult for me to explain its origins without being overcome with emotion. So I wrote about it instead. In 2006 at Attica I decided to create a dish that evoked strong thoughts of the sea. There were already a number of restaurants doing dishes with similar names that were perfectly tasty, but I felt they did not really deliver on the 'taste of the sea' that was promised on the menu. I sensed it was a concept that required deeper thought.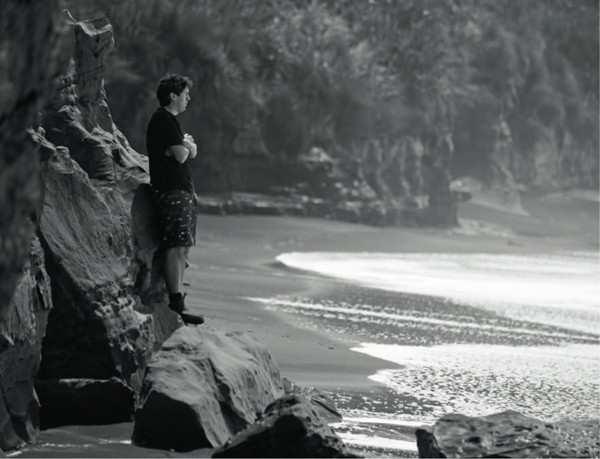 While growing up, the gathering of seafood was part of my family's way of life. We lived on the west coast of New Zealand's North Island, where there was a bounty of seafood. Our home was about fifteen minutes' drive from the desolate coast, an incredibly barren landscape with rarely a sign of human life — just driftwood and buoys washed up on the shores from Japanese fishing boats.
As a young boy I would make regular trips to these beaches with my father to gather paua (abalone), mussels, pipis and sea urchins or kina as we call them in New Zealand. When I was ten years old, I nearly drowned at one of our favourite seafood-gathering spots, Whareorino. As I collected the mussels on an exposed reef, with my back to the ocean, a large wave hit me and dragged me over the reef, gashing and shredding my back. As I tried to resurface another swell hit me, throwing me against the reef, cutting my hands and feet. Desperate and lonely, I thought I would perish until my father grabbed me and swam with me to shore. He took me home and gave me a cold shower, cleaning the sand and gravel out of my back, and I remember looking down to see that the water had turned red. This traumatic experience impressed on me to have great respect for the ocean and all the living creatures in it, and it is with this respect that I created Sea Tastes.
I wanted a dish that not only tasted like the sea, but also looked like the sea. The foundation is a gentle mound of quivering, barely cooked clam and soy-milk custard. It has a subtle sea taste with no dairy content, as I believe dairy has no merit in a sea-based dish. I steam open the clams and use their juices as the base for the custard. Steamed sliced prawns and shredded clams are then scattered over the custard. I make a clear jelly from the prawn bodies and, once set, place small pieces into the gaps between the seafood.
Perhaps the most integral part of Sea Tastes is the sea flora. I wanted fresh wild sea vegetables and I wanted to gather them myself. I have always had a curious nature and believe that we as chefs should look beyond shops and suppliers for some of our produce. There are many great things right in front of us if we would only take the time to look. My chefs and I gather more than 100 different wild plants and vegetables throughout the seasons. Not only is this produce fresher than anything you can buy from a supplier or market, but it also has more flavour because it has struggled to live without man's intervention.
After some research and wandering around Melbourne's bayside coastline, I found the three elements I had been looking for. The first is an edible algae called sea lettuce (Ulva lactuca). Its texture, colour and flavour are key to the concept of the dish, and it is the main flora component. Next I needed grey saltbush (Atriplex cinerea), which grows along the seashore and has been used in Australia as bush food since prehistoric times. It adds a gentle herbal taste and its leathery texture complements the silkiness of the custard. Sea succulent completes the sea flora trio. During my exploration of a rockface one day, I met an elderly woman who alerted me to sea succulent. It is similar to rock samphire (Crithmum maritimum), but more tender and juicier. As with all of the dishes at Attica, everything for Sea Tastes needs to be prepared daily from scratch. This philosophy is fundamental to everything that I do. I gather the sea flora every afternoon just before service so it tastes pristine and fresh. It is the favourite part of my working day — a brief escape to a quiet, beautiful part of Melbourne, away from the rigours of cooking in a small, hot, claustrophobic kitchen.