On the west coast of the North Island, the region where I was born, it's impossible to escape the majestic conical outline of Mount Taranaki, an active stratovolcano rising 2,518 metres (8,261 feet). Wherever you wander, you are in the shadow of this powerful force of nature.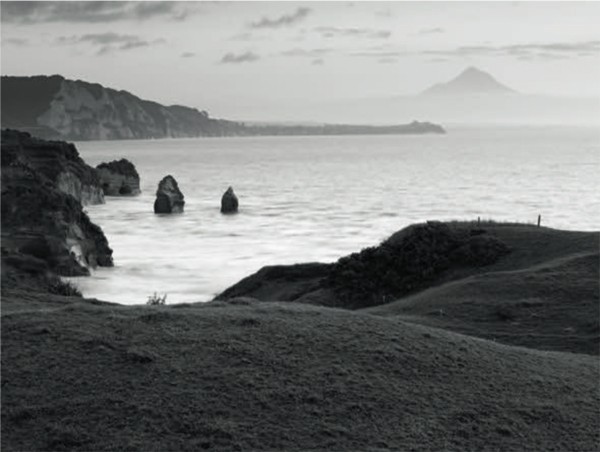 According to Maori mythology Mount Taranaki once lived in the centre of the North Island with the other volcanoes of the central plateau. Mount Taranaki was deeply in love with the beautiful Mount Pihanga. But Pihanga was the object of all the other mountains' desire and a huge battle broke out among them. Many wounds were inflicted on Mount Taranaki and in the end he lost the fight for Pihanga to the overly aggressive Mount Tongariro. Broken-hearted, Taranaki headed west creating the Whanganui River as he fled.
When clouds surround Mount Taranaki, he is said to be weeping for his lost love. When there is a beautiful sunset, he is said to be displaying himself to her. And when the hostile and irritable Tongariro erupts smoke and steam, he is said to be sending a message to Taranaki to stay away: Pihanga is his.
In 1995 I was snowboarding on Mount Ruapehu, the largest active volcano in New Zealand, which resides alongside Mount Tongariro. I was on my last run of the day with a friend when he suddenly stopped and turned back to look at the peak. As I turned I saw a large plume of black smoke appear from the crater. All of a sudden the mountain erupted with incredible noise and force, throwing rocks the size of cars, ash and gases from its cone. We jumped on our boards and took off — it was the quickest run I've ever done down a mountain. When we got to the car park it was hysteria. People were manic and everyone was falling over each other to evacuate. We looked back with a feeling of dread as lahar began to flow down the mountain. When we got to the base, news reports were saying the ash cloud was six times the height of the mountain. I'd never felt so many emotions at once before: alive, petrified, exhilarated. The next day my friend and I went back up Ruapehu and were pretty much the only people up there. The mountain continued to bellow ash and gases, and the day after they closed it for the rest of the year.
This experience changed me forever. I would never view the natural world in the same way again. I was in complete awe of a force so powerful that it made us humans seem much smaller and less significant than we think we are. It was this experience and the cultural significance of Mount Taranaki that inspired my dish Snow Crab.