This dish was also known as a 'cabbage farce' or 'forced', meaning forcemeat, which is stuffing meat. It really is excellent and looks very pretty and rustic on your dinner table.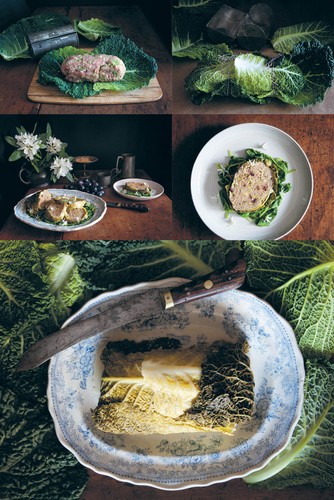 To make a Cabbage Pudding

Take two pounds of the lean part of a leg of veal, of beef-suet, the like quantity, chop them together, then beat them together in a stone mortar, adding to it half a little cabbage scalded, and beat that with your meat; then season it with mace and nutmeg, a little pepper and salt, some green gooseberries, grapes, or barberries in the time of the year; in the winter put in a little verjuice, then mix all well together, with the yolks of four or five eggs well beaten; wrap it up in green cabbage leaves, tie a cloth over it, boil it an hour; melt butter for sauce.

Eliza Smith, The Compleat Housewife, 1737
This recipe by Eliza Smith has been copied into many books after its publication; indeed, it might not even be Eliza's to begin with. I discovered the recipe after I stumbled upon it in my recently acquired first edition of The Ladies Handmaid compiled by Sarah Phillips in 1758, where she copies it word for word.
Richard Briggs gives a similar recipe (The English Art of Cookery, According to the Present Practice, 1788) that he calls 'Cabbage forced', in which he adds half a pound of bacon and leaves the veal whole in thin strips. He also adds hard-boiled eggs, nutmeg and mace, parsley and thyme, anchovies, breadcrumbs, mushrooms and raw eggs. His next recipe is a variation of this dish using the meat of a couple of plaice.
A plain green or white cabbage is what was probably used, but I prefer using a savoy cabbage because I like the flavour and the look of its bubbly leaves. I also use minced (ground) beef rather than veal, as ethically raised veal is hard to come by. The original recipe uses the same quantities of suet to beef but I'd rather not have so much suet in my pud. Sour fruits such as gooseberries, grapes or barberries can be substituted for cider vinegar and, if you can get red currants, they are quite delicious in this pudding and kind of remind me of the custom of eating paté with red currant compote.