Appears in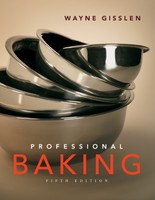 Ingredients
Sugar at 100%
Sliced almonds/12 oz/375 g/50
Sugar/1 lb 18 oz/750 g/100
Glucose/9.5 oz/300 g/40
Water/6.5 oz/200 g/27
Method
Procedure
Place the almonds on a heated baking sheet in a 320°F(160°C) oven, mixing occasionally until light golden in color.
Cook the water, sugar, and glucose to a blond caramel.
Add the almonds to the caramel all at once and mix in carefully. Do not overmix, or the almonds will break into small pieces.
Pour the mixture onto an oiled baking sheet or silicone mat.
Spread the nougatine in small quantities and use a metal rolling pin to make an even layer.
Work the nougatine near the opening of the oven, as this will keep it pliable much longer. The nougatine should not stick to the rolling pin or table. If it does, allow the nougatine to cool a little before continuing, returning it to the oven to achieve the correct consistency.
Trimmings may be used again after gentle reheating, but be careful not to use nougatine once it has become dark in color and the almonds are broken to a fine powder.