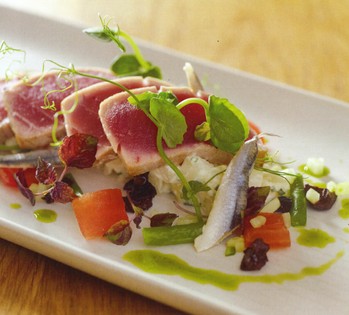 Appears in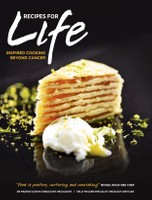 Ingredients
200 g middle cut tuna loin
vegetable oil
100 g Jersey royals
1 shallot
mayonnaise
chopped chives
2 whole tomatoes
Method
Start by searing the tuna. Place some vegetable oil in a non-stick frying pan and allow to heat up. Place the tuna loin into the pan and cook on each side for about 1 minute, the tuna should should still be raw in the middle. Once all sides are sealed, wrap the tuna tightly in cling film and place in the fridge to cool down and set up.
Boil the potatoes until cooked, dice and add the chopped shallot to them. Add a couple of spoons of mayonnaise and mix gently together, sprinkling in some chopped chives.
Place a small cut into the top of the tomatoes and plunge into boiling water for 8 seconds and then place into ice cold water to remove the skin. Cut the tomatoes into quarters and remove the seeds, cut the flesh into strips.