Trim the tough extremities from the leek greens, slit several times from the white section, piercing at point just below the formation of the leaves up through the leaves, soak, cut white and light-green sections into lengths corresponding to the size of the ham slices, tie into a bundle (the green tops will serve for soups or bouquets garnis) and cook in lightly boiling salted water until barely tender—about ten minutes. Drain thoroughly.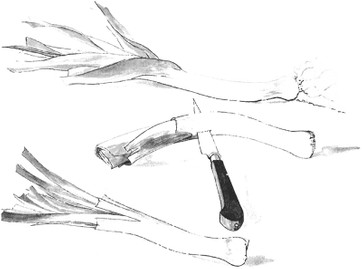 Sauté the zucchini in butter over high flame, tossing often, for 7 or 8 minutes. Set aside. Sauté the mushrooms, lightly salted, in butter over high flame, tossing constantly, for about 3 or 4 minutes or until all their liquid has evaporated and they begin to cling to the pan. Add the chopped herbs a few moments before removing from the heat and, at the moment of removing, grind over a bit of pepper and add a few drops of lemon juice. Mix together zucchini, mushrooms, and stewed onion.
Prepare the béchamel in the usual way, cooking it gently for ½ hour; discard the thyme and bay leaf and add the pepper, the nutmeg, and the cream upon removing it from the heat.
Roll two leeks coated with a heaping tablespoonful of the vegetable mixture into each of the slices of ham and arrange them, flap side down, in a buttered gratin dish of a size so that they barely touch. Scatter over the green peppercorns. Stir half of the grated cheese into the sauce and spoon it regularly over the ham rolls, sprinkle on the remaining cheese, distribute paper-thin sheets of chilled butter over the surface, and bake for ½ hour at 375° to 400° or until the sauce is bubbling and the surface is richly golden.