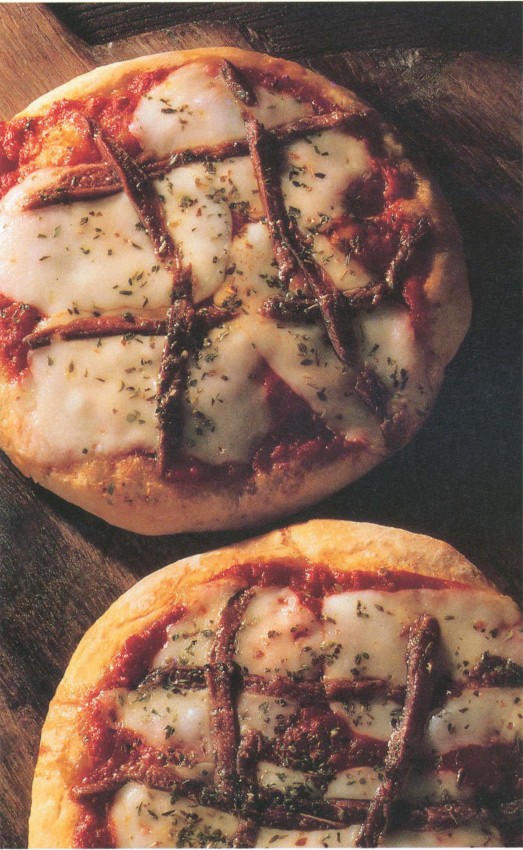 This is the most famous of all pizzas, and you can use the basic recipe as a guide to making others with different toppings. The quick tomato sauce should be made in advance and left to cool before using.
To make the dough, follow the white bread dough recipe, but add 2 tablespoons extra virgin olive oil with the water. When the dough has risen divide it into 8 pieces to make 8 pizzas, each about 20cm (8in) wide, or make into 2 large pizzas. Use 2 baking sheets, if necessary.
Roll each piece of dough into a ball, then flatten into 20cm (8in) rounds about 2.5mm (⅛ in) thick using the heel of your hand. Use your fingers to make the rounds a little thicker at the edges so the sauce does not run off the pizza during baking.

Place the pizzas on oiled baking sheets and leave to rise again, covered with lightly oiled clingfilm. Brush each one with olive oil, then top with tomato sauce, sliced Mozzarella cheese, a lattice of drained canned anchovies (optional) and dried oregano.

Dribble over a little more olive oil, then bake the pizzas towards the top of a preheated oven, 230° C, 450°F, Gas Mark 8 for 10-15 minutes, rotating the baking sheets halfway through, until the edges are golden brown and the cheese bubbling.