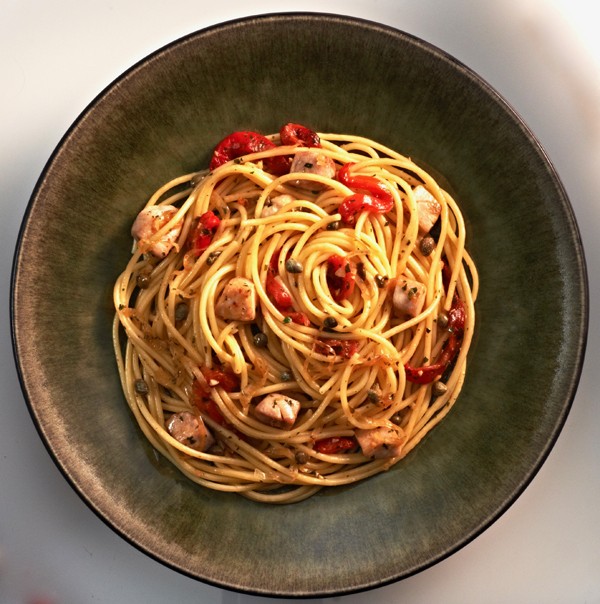 Appears in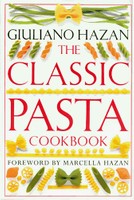 Total Time from Start to Finish: 1 hour
Ingredients
2 red bell peppers
4 tablespoons extra virgin olive oil
½ cup yellow onion, thinly sliced crosswise sliced
1 pound spaghetti
1 teaspoon garlic, finely chopped
8 ounces. fresh tuna, cut into ½-inch chunks
Salt
Freshly ground black pepper
¼ cup dry white wine
1 tablespoon flat leaf Italian parsley, finely chopped
2 tablespoons capers
Method
Roast the red peppers over an open flame or under the broiler until the skin is charred on all sides. Place them in a plastic bag and tie it shut. After about 20 minutes take the peppers out, cut them in half, remove the core and scrape away the skin and the seeds. Do not rinse them or try to peel them under running water or you'll wash away the flavor. Cut them into strips about 1 ½-inches long and ¼-inch wide.
Fill a pot for the pasta with about 6 quarts of water, cover, and place over high heat.
Put the sliced onion and olive oil in a 10-inch skillet and place over medium low heat. Cook until the onion has wilted and turned a rich golden color, 10 to 15 minutes.
Add 2 tablespoons salt to the boiling pasta water, add the spaghetti, and stir until all the strands are submerged. Cook until al dente.
Turn the heat up to medium high under the skillet and add the garlic. Cook for about a minute then add the tuna. Continue cooking for about a minute stirring often until the tuna has lost its raw color. Take care not to overcook the tuna or it will be too dry.
Add the roasted peppers, season with salt and pepper, stir for about 30 seconds, then add the wine. Once the alcohol has evaporated, add the parsley and capers, stir well and remove from the heat until the pasta is ready.
When the pasta is done, drain well, toss with the sauce and serve at once.
Also good with:
© 1993 Giuliano Hazan. All rights reserved.