Appears in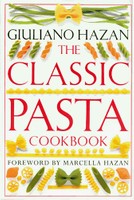 Total Time from Start to Finish: 40 minutes
Ingredients
1 ½ lbs. zucchini
½ cup yellow onion, finely chopped (½ medium onion)
4 Tbs. butter
Salt
Freshly ground black pepper
1 cup heavy cream
½ tsp saffron strands, crumbled
fettuccine made with 3 eggs and 2 ¼ cups flour
⅓ cup parmigiano-reggiano, freshly grated
Method
Wash the zucchini, remove the ends, and cut into narrow sticks about 1 ½-inch long and ¼-inch thick. Finely chop the onion.
Fill a pot for the pasta with about 6 quarts of water, cover, and place over high heat
Put the butter and onion in a 12-inch skillet and place over medium heat. Sauté until the onion has turned a rich golden color, about 5 minutes. Turn the heat up to medium high and add the zucchini. Season with salt and pepper and cook until they are tender and have browned lightly, 10 to 15 minutes. Add the cream and saffron. Cook until the cream has reduced by about a third and remove the pan from the heat.
Add 2 tablespoons salt to the boiling pasta water, add the fettuccine, and stir until all the strands are submerged. Cook until al dente. When the fettuccine are done, drain and toss with the sauce and the parmesan cheese. Serve at once.
Also good with:
© 1993 Giuliano Hazan. All rights reserved.