Appears in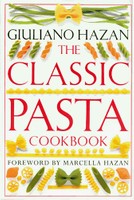 Total Time from Start to Finish: 40 minutes
Ingredients
2 tablespoons extra virgin olive oil
2 tablespoons butter
2 tablespoons shallots, finely chopped
½ teaspoon garlic, finely chopped
2 ounces pancetta, sliced thin and finely diced
1 teaspoon fresh sage, chopped or ½ teaspoon dried
4 ounces ground beef chuck
8 ounces chicken livers, fat removed and cut into approximately ½-inch pieces
Salt
Freshly ground black pepper
2 teaspoons tomato paste
¼ cup dry white vermouth
Pappardelle made with 3 eggs and 2 ¼ cups flour
⅓ cup Parmigiano-Reggiano, freshly grated
Method
Put the olive oil, butter and shallots in a sauce pan over medium heat and Sauté until the shallots begin to color, about 5 minutes. Add the garlic, stir for about 30 seconds, then add the pancetta and sage. Continue cooking until the pancetta begins to color, about 2 minutes. Add the ground beef and break it up with a wooden spoon. Cook until it loses its raw color. Add the chicken livers and season with salt and pepper. Cook for a few more minutes until they have lost their raw color.
Fill a pot for the pasta with about 6 quarts of water, cover, and place over high heat.
Dissolve the tomato paste in the vermouth, add it to the pan with the sauce and raise the heat to medium high. Cook until most of the liquid has evaporated, 5 to 10 minutes, and remove from the heat.
Add 2 tablespoons salt to the boiling pasta water, add the pappardelle, and stir until all the strands are submerged. Cook until al dente. When the pasta is done, drain well, toss with the sauce and the grated Parmigiano-Reggiano. Serve at once.
© 1993 Giuliano Hazan. All rights reserved.