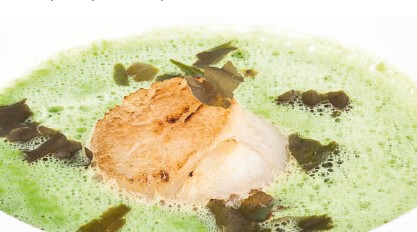 Appears in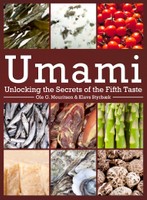 A good fish stock can be made using only fish and shellfish, as they contain both the glutamate and nucleotides needed to impart umami. The combination of shellfish with vegetables that have a good quantity of glutamate yields a particularly robust stock with intense umami. A good example is green pea soup with scallops, where the green peas contribute glutamate and the scallops release large quantities of adenylate. Green pea soup with scallops and seaweed
Ingredients
2 large onions
3 cloves garlic
neutral-tasting oil
1 kg (2¼ lb) small green peas, fresh or frozen
4 dL (1¾ c) water
2 dL (⅞ c) whole milk
3 Tbsp aromatic vegetable sea salt (e.g., Herbamare)
salt, seaweed salt, and freshly ground black pepper
6 large scallops
dried sugar kelp (optional)
Method
Chop the onions and garlic coarsely and sauté them in hot oil until they are almost transparent.
Set aside 3 Tbsp of the green peas for adding to the soup later.
Add the water, milk, and Herbamare to the pot and cook for 5 minutes.
Mix in the remaining green peas and bring to a boil.
Mix everything in a blender, and season with salt, seaweed salt, and pepper. Add more milk if required to achieve the desired consistency.
Mix in the reserved peas.
In a skillet over medium-high heat, quickly sear the scallops on both sides without any fat until they are barely cooked through.
Serve the soup in bowls with a scallop placed in each, and sprinkle crumbled sugar kelp on top.
Purely vegetarian soups can derive glutamate from a variety of sources, such as cooked potatoes, green peas, soybeans, corn, green asparagus, cauliflower, mushrooms, and, of course, tomatoes. Fungi, especially dried shiitake mushrooms, have good quantities of the nucleotides that can interact synergistically, but there are very few vegetables that can play this role.
© 2014 All rights reserved. Published by Columbia University Press.