Appears in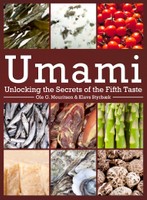 Ingredients
½ dL (¼ c) tomato cut into small cubes
½ dL (¼ c) cucumber cut into small cubes
12 oysters in their shells
½ shallot
1 dL (scant ½ c) dry white vermouth, such as Noilly Prat
2 dL (⅞ c) heavy cream
2–3 Tbsp bread crumbs, preferably panko
2–3 Tbsp nutritional yeast
pinch of smoked shrimp head powder
pinch of cayenne pepper
Method
Blanch the tomatoes for a minute in boiling water and then skin them. Remove the seeds from both the tomatoes and the cucumber and then cut the pulp into small cubes.
Preheat the oven to 225°C (425°F). Open all the oysters and remove them from their shells. Set aside the liquid in the shells and return the oysters to the more curved half-shells. Place on a baking sheet.
Chop the shallot finely and place in a saucepan. Add the vermouth, and bring to a boil. Add the cream and reduce the liquid by about half. Add the liquid from the oysters to taste, and stir the tomato and cucumber cubes into the sauce.
Mix together the bread crumbs, nutritional yeast, shrimp head powder, and cayenne.
Distribute the sauce evenly around and on top of the oysters and sprinkle with the bread crumb mixture.
Broil until the crust is golden and the oysters are warm but still raw in the middle.