Appears in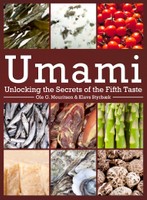 Ingredients
15 g (½ oz) maccha
8 dL (3⅓ c) warm water (75–80°C or 165–175°F)
1 leaf gelatin (¾ tsp powdered gelatin)
140 g (⅗ c) light cane sugar
70 g (⅓ c) corn syrup
2 dL (45 c) tomato juice from the pulp of very ripe tomatoes
seeds from ½ vanilla bean
a little freshly squeezed lemon juice
Method
Pass the maccha powder through a sieve into a deep, warmed bowl, add the warm water, and whisk for 1–2 minutes, until the tea foams.
Soften the gelatin in a small amount of cold water.
Pour the warm tea into a blender, add the cane sugar, corn syrup, gelatin, tomato juice, and seeds from the vanilla bean. Blend until smooth.
Season with a little lemon juice, until the sweet and sour balance is as desired.
Churn the mixture in an ice cream maker according to the manufacturer's instructions. Or freeze in it a shallow baking pan and break it up and blend it again just before serving. The sorbet can be served with small grape tomatoes that have been pickled in a good, strong honey with some lemon peel.