Appears in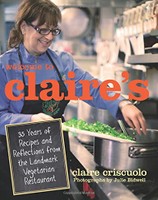 Ingredients
2 tablespoons extra-virgin olive oil
1 medium yellow onion, coarsely chopped
1 large clove garlic, finely chopped
10 large, ripe plum tomatoes, coarsely chopped, including juices
¼ cup coarsely chopped Italian flat-leaf parsley
Sea salt and pepper
6 cups water
1 tablespoon chopped fresh dill
Method
Heat the oil in a medium pot over medium-low heat. Add the onion, garlic, tomatoes, and parsley. Sprinkle lightly with salt and pepper. Stir to mix. Cover and cook, stirring occasionally, for 15 minutes, or until the tomatoes are soft and have released their juices.
Add the water. Raise the heat to high, cover, and bring to a boil. Remove the cover and lower the heat to medium. Cook, uncovered, at a medium boil, stirring occasionally for about 45 minutes, or until the soup is reduced slightly. Stir in the dill. Taste for seasonings.
While the soup is cooking, prepare the toasts.
Preheat the oven to 350°F. Measure the olive oil into a small bowl. Add the garlic and a little salt and pepper. Arrange the slices of Italian bread, cut side down, on a cookie sheet. Bake the bread for about 10 minutes, then turn the slices over and bake the other side for about 10 minutes or until just firm to the touch.
Remove from the oven and, using a small metal spatula, spread a couple of teaspoons of the cheese on one side of each toast, then spoon a little of the garlic and oil mixture evenly over each. Sprinkle a little pepper onto each toast if desired.
Serve the toasts with the soup, or place a toast in each soup bowl and ladle the soup over the toasts.