Appears in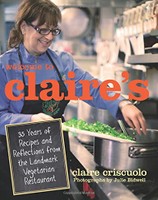 Ingredients
2 small heads romaine
2 tablespoons extra-virgin olive oil
2 tablespoons freshly squeezed lemon juice, about ½ lemon
Sea salt and pepper
2 strips meatless bacon, cooked until crisp, crumbled
4 ounces Gorgonzola cheese, crumbled
Method
Leaving the romaine heads intact, rinse the leaves well under cold water, spreading the leaves open to allow any grit to wash away. Turn the heads upside-down and, holding the head by the stem, shake lightly to remove excess water. Transfer to a plate. In a shallow bowl, combine the oil, lemon juice, salt, and pepper. Taste for seasonings.
Using your fingers, coat the outside of the romaine heads with some of the oil mixture, then return to the plate. Heat a large skillet over medium heat. Add the oiled romaine heads in a single layer and cook for about 20 seconds, until the underside wilts but doesn't burn. Using tongs, turn the heads and cook evenly for about 20-30 seconds per side until romaine is evenly wilted and lightly browned on all sides. Transfer to a serving plate.
Using a sharp knife, cut each head in half lengthwise and arrange them with the cut side up. Drizzle the remaining oil mixture evenly over the romaine and scatter the crumbled meatless bacon and the Gorgonzola evenly over the top. Serve immediately.