Appears in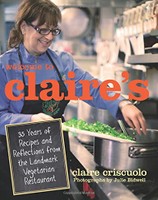 Ingredients
1 cup organic apple juice
1 cup water
Salt and pepper, to taste
½ teaspoon turmeric
1 tablespoon curry powder
¼ teaspoon cinnamon
1 cup organic brown rice
2 cups corn kernels (cut from about 2 ears of corn)
2 cloves garlic
1-inch piece peeled fresh ginger, coarsely chopped
¼ cup freshly squeezed orange juice (from about ½ orange)
3 tablespoons peanut oil or pumpkin seed oil
1 teaspoon curry powder
Pinch of cayenne pepper
Salt and pepper, to taste
¼ cup organic raisins
1 small red onion, cut into thin rings, separated
2 small organic bell peppers, seeded and diced
Method
Measure the apple juice, water, salt, pepper, turmeric, 1 tablespoon curry powder, cinnamon, and brown rice into a medium-size pot. Cover and bring to a boil over high heat. As soon as it reaches a boil, reduce the heat to low-medium and simmer for about 18 minutes, until the liquid is nearly absorbed, then stir in the corn kernels. Cover and continue cooking for about 3 minutes, until the rice and the corn are tender. Remove from the heat and turn into a large bowl.
Using two wooden spoons, toss to cool down a bit. Set aside to cool for about 15 minutes, occasionally tossing to facilitate cooling.
Meanwhile, measure the garlic, ginger, and orange juice into the bowl of a food processor fitted with a metal blade. Cover and process for about 20 seconds, until smooth and creamy-looking. With the motor running, add the oil, curry powder, cayenne, salt, and pepper to taste. Set aside this dressing.
Add the raisins, onion, and bell peppers to the cooled rice and corn. Using two wooden spoons, toss to combine. Add the dressing and toss well to coat the salad. Taste for seasonings. Serve at room temperature or refrigerate for up to 2 days. Toss again just before serving.