Appears in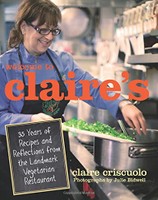 Ingredients
Salad

2 small white or Sicilian eggplants, or other small eggplants
Salt
1 large sweet onion, sliced into thin rings, separated
3 tablespoons extra-virgin olive oil, divided
Pepper
12 ounces baby spinach leaves, well washed to remove any grit, drained well
12 oil-cured black olives
4 ounces ricotta salata cheese, coarsely grated
Method
To begin preparing the salad, preheat the oven to 400°F. Cut the eggplants into ½-inch rounds. Separate the rounds and place them in a bowl. Sprinkle generously with salt—about 2 tablespoons—using your hands to toss and coat the eggplant rounds. Set aside for about 20 minutes, tossing occasionally until the liquids begin to leach from the eggplant.
Meanwhile, in another bowl, toss the sliced onion rings with 1 tablespoon of the olive oil. Sprinkle with salt and pepper to taste. Turn onto a jelly roll pan, using a rubber spatula to scrape the bowl and to spread the onions evenly in the pan. Bake in the preheated oven for about 30 minutes, stirring occasionally until the onions are golden brown and a little crisp around the edges. Remove from the oven and set aside to cool.
Brush or spray another jelly roll pan with olive oil. Pour ¼ cup of water into the pan. Using your hands, squeeze the excess liquid from the eggplant rounds and place the rounds in a single layer on the prepared pan. Drizzle lightly and evenly with the remaining 2 tablespoons of olive oil. Sprinkle lightly with salt and pepper. Cover the pan tightly with foil. Bake in the preheated oven for about 30 minutes or until the eggplants are tender-soft when tested with a fork. Remove from the oven to cool.
Meanwhile, prepare the vinaigrette. Combine the oil, tomatoes, basil, parsley, salt, and pepper in the bowl of a food processor. Cover and blend for about 30 seconds, until nearly smooth. Taste for seasonings.
To assemble the salad, arrange the spinach leaves on a large serving platter. Scatter the caramelized onions, roasted eggplant, and olives over the spinach. Toss with about ¼ cup vinaigrette. Scatter the grated ricotta salata evenly over the top. Enjoy it.