Appears in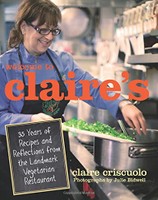 Ingredients
Grits
3 cups water
2 cups organic 2 percent milk
1 cup grits (do not use instant)
Sea salt and pepper
¼ cup freshly grated Parmesan cheese
1 tablespoon organic butter
2 teaspoons white truffle oil
Method
To prepare the grits, bring the water and milk to a boil in a 4-quart heavy pot over high heat. When the liquid reaches a boil, slowly add the grits, whisking as you add them. Lower the heat to medium and whisk in a little sea salt and pepper. Cook, uncovered, at a low boil, whisking frequently, until the grits thicken, about 12 minutes. Remove from the heat and whisk in the Parmesan cheese until blended. Whisk in the butter until blended. Drizzle the truffle oil evenly on top, then whisk to blend. Cover the grits to keep them warm while you prepare the braised mushrooms.
To prepare the braised mushrooms, place the carrots, celery, and onion in the bowl of a food processor fitted with a metal blade. Cover and process for about 10 seconds until finely minced, but not pureed.
Heat the butter and the oil in a large, deep skillet over medium heat. Add the shallots and the processed carrot mixture. Sprinkle with salt and pepper. Cover and cook for about 2 minutes, stirring occasionally, until the vegetables have released some of their liquids. Add the mushrooms, thyme, sage, and red wine. Stir well to combine. Cover and continue cooking for about 5 minutes, stirring frequently, until the mushrooms are tender. Uncover and stir in the chopped parsley. Continue cooking, uncovered, for a minute until heated through; this will allow some of the alcohol to evaporate from the wine, leaving behind a gentler flavor. Taste for seasonings.
Turn the Parmesan grits onto a platter. Spoon the mushroom mixture with juices evenly in the center of the grits. Serve immediately.