Appears in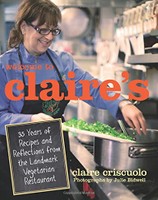 Ingredients
2 cups flour
¼ cup plus 2 tablespoons sugar, plus an additional teaspoon for topping the bread
1 teaspoon baking soda
⅛ teaspoon salt
2 tablespoons butter, cut into small cubes
1½ teaspoons caraway seeds
¼ cup plus 2 tablespoons raisins
½ cup plus 1 tablespoon buttermilk, plus an additional teaspoon for topping the bread
Method
Center the oven rack. Preheat the oven to 375°F. Into a medium bowl, measure the flour, sugar, baking soda, and the salt. Whisk to combine. Add the cubes of butter, and using your fingertips, rub the butter into the flour mixture, pressing the butter with the flour, until you have small crumbs. Add the caraway seeds and the raisins and using two spoons or your fingers, toss to combine. Pour the buttermilk over the flour mixture, and using your hand, mix to combine.
Then using your hands, knead the mixture right in the bowl, pushing the dough into the dry ingredients to collect any dry bits of flour and to mix them into the dough. Knead for about a minute until the dough is smooth. It will be a little sticky, but fine.
Line a cookie sheet with parchment paper or spray it with organic canola oil spray. Transfer the dough to the prepared cookie sheet and gently pat into a round shape about 6-inch diameter. Using a sharp knife, cut an X about half way down into the dough. Bake centered in the preheated oven for about 40 minutes or until the bread is a deep golden brown. To test for doneness, remove the bread from the oven, and turn the bread onto a plate (or right onto your hand if you are wearing an oven mitt). Turn the bread over and using your fist, tap on the underside of the bread and if it makes a hollow sound it's done.
Turn the cooked bread back onto the cookie sheet, then brush the top with the remaining teaspoon of buttermilk, and sprinkle it with the remaining teaspoon of sugar. Bake for a minute just to give the top a shine. Remove from the oven. Turn onto a plate, right side up. Cool slightly before serving. Store any leftovers tightly wrapped in foil on the counter for up to 2 days. Serve plain or with a little butter on top.