Appears in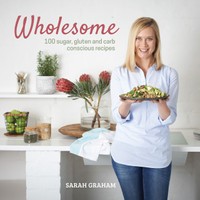 Preparation time 10 minutes
Cooking time 15–20 minutes
Ingredients
What you'll Need
1 cup quinoa (or millet or oats)
½ cup water
1 × 400 ml can coconut milk (or almond or cow's milk)
½ tsp ground cinnamon
1 vanilla pod, sliced lengthways
To serve
Divide the following between the porridge bowls:
½ cup coconut shavings
¼ cup mixed nuts, roughly chopped
½ cup natural yoghurt or coconut cream
¼ cup mixed seeds (I like sunflower, flax and pumpkin)
maple syrup (or coconut sugar, xylitol or alternative healthy natural sweetener)
fresh pomegranate rubies or berries, for garnishing (if available)
Method
What to do
Cook the quinoa with the water, milk and spices in a medium-sized saucepan. Bring to a boil, then simmer for about 15 minutes with the lid askew, or until all the liquid has been absorbed and the quinoa grains are cooked through and creamy. Add a little hot water as it cooks if you find that it becomes too thick, although you are looking for a creamy, porridgy consistency.
Lightly toast the coconut shavings and chopped nuts in a dry pan over medium heat.
When the quinoa is cooked, layer the breakfast puddings in small glass jars or bowls, dividing and layering the remaining ingredients between them.
© 2017 All rights reserved. Published by Struik.