Appears in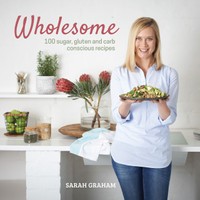 Preparation time 15 minutes
Cooking time 30 minutes
Ingredients
What you'll Need
1 Tbsp olive oil
1 Tbsp butter
600 g skinless, deboned chicken thighs, cut into 2 cm cubes
1 tsp each of turmeric, ground coriander, ground cumin and dried chilli flakes
2 tsp medium curry powder or garam masala
1 cinnamon stick, snapped in half
2 tsp grated fresh ginger
1 clove garlic, minced
1 × 410 g can peeled, chopped tomatoes
2 Tbsp tomato paste
1 tsp coconut blossom sugar (or alternative)
1 × 400 ml can coconut milk (reserve 2–3 Tbsp)
3 Tbsp ground almonds (not vital)
Coconut and cardamom cauli rice
1 large head cauliflower
½ × 400 ml can coconut milk
4 green cardamom pods, bruised
To serve
1 small bunch fresh coriander
2 Tbsp roasted slivered almonds
2–3 Tbsp reserved coconut milk
Method
What to do
Add the olive oil and butter to a medium-sized saucepan over medium-high heat. When the butter starts to foam, add the chicken and cook for about 5 minutes until golden on all sides. Remove the chicken with a slotted spoon and set aside.
Add the spices and fresh ginger to the saucepan and cook for about 1 minute until fragrant. Add the garlic and cook for another minute.
Add the remaining ingredients, as well as the chicken pieces, turn the heat down to medium-low, and leave to simmer for about 15 minutes.
To make the cauli rice, roughly chop the cauliflower and add to a food processor. Pulse until you have rough, rice-like grains. Add the coconut milk to a saucepan, bring to a simmer and then add the cauliflower and cardamom. Cook for 3–4 minutes, drain off any excess liquid and season to taste.
Serve the butter chicken and cauli rice in warmed bowls topped with fresh coriander, slivered almonds and an extra drizzle of coconut milk.
,