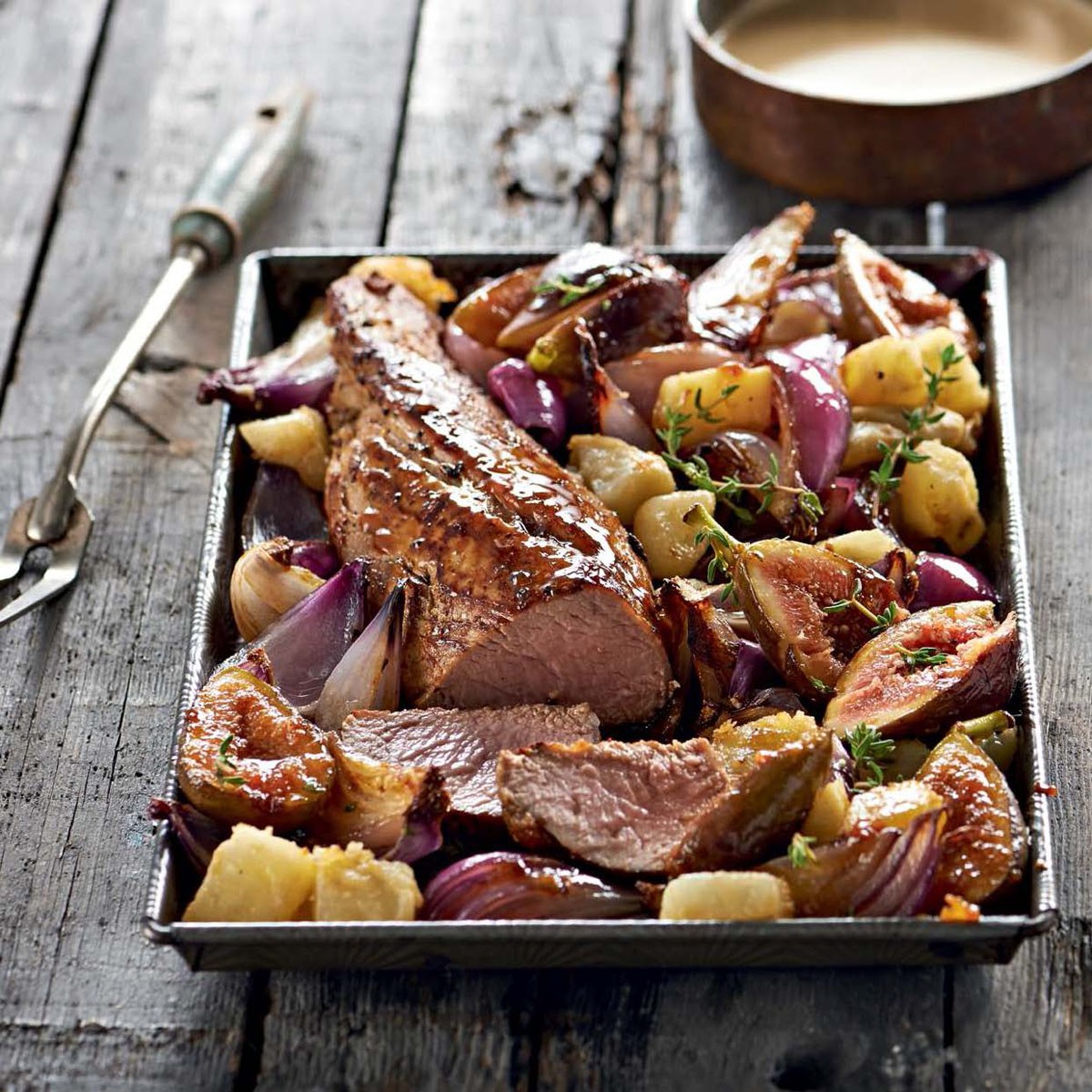 Appears in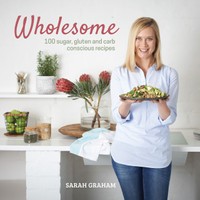 Preparation time 5–10 minutes
Cooking time 30 minutes (mostly unattended)
Ingredients
What you'll Need
2 sweet potatoes, cut into 2 cm cubes
1 × 900 g pork fillet
salt and freshly ground black pepper
1 Tbsp Dijon mustard
1 Tbsp wholegrain mustard
1 tsp dried fennel
1 tsp dried sage
1 Tbsp olive oil, plus extra for drizzling
2 red onions, cut into sixths
4 firm figs, halved (or 2 firm pears, cut into sixths lengthways; or stone fruit of your choice)
2–3 large cloves garlic, skin on but 'smashed'
knob of butter
maple syrup or rice malt syrup, for drizzling
sprigs of fresh thyme, for garnishing
Gravy
1 Tbsp plain flour (or gluten free if necessary)
½ cup cider
½ cup chicken or vegetable stock
¼ cup fresh cream or natural yoghurt (optional)
Method
What to do
Preheat the oven to 200 °C.
Parboil the sweet potatoes in a large saucepan of salted boiling water for 10–15 minutes, or until they can be easily pierced with a knife. Drain and set aside.
In the meanwhile, season the pork fillet with salt and freshly ground black pepper, and then coat with the mustards, fennel and sage.
Heat a large ovenproof frying pan over medium-high heat and add the olive oil. When the oil is hot, sear the pork fillet for 2–3 minutes on each side, or until golden. Remove the pan from the heat, add the onions, figs and garlic, drizzle with a little extra oil and then transfer to the oven (if you don't have an ovenproof pan, just sear the fillet on the stovetop and then transfer to an ovenproof baking dish and add the remaining ingredients).
After 25 minutes, remove the pork from the pan and rest for 10–15 minutes. Add the butter to the vegetables along with a drizzle of maple syrup or rice malt syrup and return them to the oven while the meat rests so that they will be nice and caramelised.
Remove the vegetables with a slotted spoon and make a quick gravy as follows: add the flour to the pan and place over medium-high heat. Add the cider and stock and leave to simmer, stirring often, for about 5 minutes, or until the gravy is glossy and thick. To make the gravy extra creamy, add the cream or yoghurt. Season to taste and then remove from the heat and set aside.
Slice the pork fillet and serve immediately on warmed plates with the vegetables and gravy. Garnish with thyme.
© 2017 All rights reserved. Published by Struik.