Appears in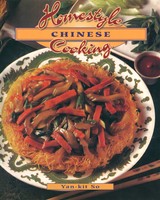 Many Chinese dishes, such as Lemon Chicken and Crispy Skin Bean Curd benefit from being dipped in a little spiced salt. It enhances the flavor of the food.
To prepare the spiced salt, heat the wok over a medium heat until hot, but not smoking. Add 2 tablespoons salt and stir continuously for 4-5 minutes, or until very hot and slightly grayish in color. Remove to a small bowl, add 1 tablespoon five-spice powder and ½ teaspoon ground white or black pepper. Mix well and serve in small saucers at the table.
© 1997 Yan-Kit So estate. All rights reserved.