Appears in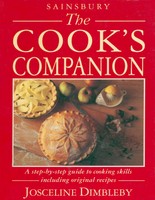 For shallow frying use vegetable oil or concentrated butter for cooking or make your own clarified butter. Both butters are good to use because they have no sediment to burn, while ordinary butter is unsuitable unless it is mixed with oil.
Use any thin fillet offish, preferably skinned, or cut across into strips for goujons. A crisp homemade breadcrumb coating, ideal for shallow frying, is delicious and quite simple. Prepare three plates – one with seasoned flour, another with beaten egg and the third with dried breadcrumbs.
Dip the fish pieces in the four, then in the egg and finally in the crumbs, making sure the fish is well coated. Shake off the excess. Chill for 10-20 minutes.

Heat enough oil in a frying pan to cover the base by 5mm (¼ in). Fry the fish in a single layer until golden, then turn over and fry the other side. Drain on kitchen paper.
© 1991 All rights reserved. Published by Websters International.