Appears in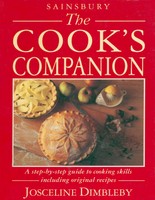 A leg of lamb is a lean joint with a delicate flavour and should always be cooked so it is still pink inside to retain its succulence. Prepare the joint at least 2 hours before roasting so the flesh absorbs the flavours of this light coating: mix 2 cloves of crushed garlic with fresh thyme or oregano, black pepper and a little lemon juice. Make small, deep slits in the meat and push the mixture in with your finger. Smear the whole joint with a little lemon juice mixed with olive oil and leave at room temperature.
Just before roasting smear a little more olive oil all over the prepared joint, then rub the outside skin with crushed sea salt, if you like, and put into a roasting tin. Weigh and roast according to the chart, basting frequently.

About 20 minutes before the end of cooking add about 15ml (3fl oz) dry vermouth to the roasting tin. After roasting, leave the joint to rest on a warm serving plate in a warm place for 15-25 minutes. Use the pan juices to make gravy.
© 1991 All rights reserved. Published by Websters International.