Appears in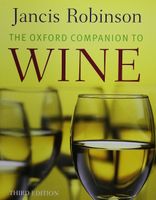 Amerine, M. A., and Winkler, A. J., 'Composition and quality of musts and wines of California grapes', Hilgardia, 15 (1944), 493–575.
Anderson, J. D., et al., 'Analysis of viticulture region climate and structure and suitability in New Zealand', Journal International des Sciences de la Vigne et du Vin, 46/3 (2012), 149–65.
Gladstones, J., Viticulture and Environment (Adelaide, 1992).
Jones, G. V., et al., 'Spatial analysis of climate in winegrape growing regions in the western United States, American Journal of Enology and Viticulture, 61/3 (2010), 313–26.
Huglin, P., 'Nouveau mode d'évaluation des possibilités héliothermiques d'un milieu viticole', Comptes Rendus de l'Académie d'Agriculture de France (1978), 1117–26.
Prescott, J. A., 'The climatology of the vine (Vitis vinifera). 3. A comparison of France and Australia on the basis of the warmest month', Transactions of the Royal Society of South Australia, 93 (1969), 7–15.
Smart, R. E., and Dry, P. R., 'A climatic classification for Australian viticultural regions', Australian Grapegrower and Winemaker, 196 (1980), 8, 10, 16.
Tonietto, J., and Carbonneau, A., 'Système de classification climatique multicritères (C.C.M.) géoviticole', in 3rd International Symposium Zonification Vitivinicola (Tenerife, May 2000).