Appears in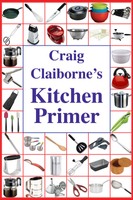 Almost every authority who has written on the subject has different notions about setting a table. There is common agreement on one point, however: knives and spoons are generally placed to the right of the dinner or service plate, forks to the left. And the silver is arranged in accordance with the menu, in a pattern so that guests will pick up the utensils used first, working from the outside in.
Other than that there are not any rock-bound rules about table settings. Thus it is best to rely on your own logic. As an example, however, you may note the place setting that follows for a dinner consisting of soup, chicken sauté with noodles, salad with cheeses and bread, fruit, and wine. It is supposed that a white wine will be served with the chicken dish, a red wine with the cheeses. You never serve two different wines in the same glass.
Note that the soup spoon is on the outside since it will be used first. After the soup is disposed of, the two outside pieces become the dinner knife and the dinner fork to be used with the chicken dish. When that is disposed of, you are left with a salad fork to the left, a knife to the right, to be used with the cheese. When they are disposed of, you are left with the dessert fork and spoon arranged at the top of the dinner plate.
The use of a dessert fork and spoon is not as common in America as it is in France, but it is practical, the fork for pushing, the spoon for eating, and vice versa, depending on the dish: berries and cream desserts with a spoon, cake and pie with a fork.
The reason the dessert fork and spoon are placed above is simply because if they were placed to either side of the dinner plate with the other silver, it would look cluttered. It is not necessary, in fact, to place the dessert fork and spoon (or fork alone) when the table is set. They may be brought to the table just before or simultaneously with the dessert.
The use of a service plate (a plate put in the center of each place setting before guests are seated) is not essential, but it has more style than place setting without. The service plate is generally removed after the soup course or appetizer if there is one. If there is no soup course or appetizer, the service place is removed before the main course is served.
First Course: Clear turtle soup
Main Course: Chicken sauté with noodles
Salad Course: With assorted cheeses and heated French bread
Dessert: Mélange of fruits
Coffee
This is the way one proposed place setting with wineglasses might look:
© 1969 Craig Claiborne estate. All rights reserved.