Appears in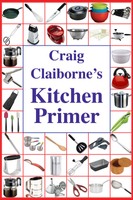 A heavy iron or aluminum frying pan (approximately 10 inches in diameter), a medium wire whisk, a heavy aluminum or enameled cast-iron saucepan (1½-quart capacity), a stainless-steel paring knife, a 12-inch stainless-steel chopping knife, a swivel-bladed paring knife, a metal spatula, a long two-pronged fork, a long kitchen spoon, a long slotted metal kitchen spoon,
a set of graduated glass measuring cups (1 to 4 cups), a standard set metal measuring spoons, a nest of mixing bowls, a can opener, a beer can opener, a flour sifter, a grater with assorted grating surfaces, a lemon squeezer, a funnel, a medium-size strainer, a 8-inch pie plate, a pair of kitchen tongs for turning bacon, chops, etc., as they cook,
a rotary beater, a colander, a wooden spoon, a pair of kitchen scissors, a French wire salad basket, a teakettle, a teapot, a coffeemaker (I prefer a drip pot with disposable filter paper), a pastry brush, a rubber spatula (for scraping bowl clean), a pepper mill,
a kitchen timer (unless there is one built into the stove), a dish draining rack, a basting syringe, an egg slicer, a solid hardwood chopping block to fit on a kitchen work surface, a 3-quart heavy metal ovenproof casserole (also called a Dutch oven), spice rack (with a minimum of the following spices: bay leaves, thyme, peppercorns, tarragon, cayenne pepper, nutmeg, oregano, dry mustard, and paprika), a corkscrew; a canister set for flour, salt, and sugar; an ice pick, a large pastry board with cloth cover for rolling out pastry, a pastry blender, various wraps, i.e. waxed paper, aluminum foil, paper wrap, Saran or other clear-plastic wrap.
© 1969 Craig Claiborne estate. All rights reserved.