Appears in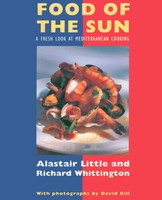 A conundrum: when is a soup not a soup? Answer: when it is a Mediterranean meal. Bouillabaisse is a good example. It has soup elements, yes, but also the substance of a fish main course. Corn and Cumin Soup with Chicken and Roast Red Pepper? Change the amount of chicken and put some bread on the side and then ask whether you have a soup or a main course. In our European tradition, soup can be just as filling as any main course and it is interesting to consider when the idea of a soup as a distinct course at the beginning of a meal first became common practice. Almost certainly it was not until Victorian times and then only in grander houses. The word 'soup' comes from humbler origins and the use of bread to sop up broth is a distinction that recognized the food in the bowl was more liquid than solid. Before then soups were thicker affairs that would have contained pulses and grains, one-pot dishes indistinguishable from stews.
The separation and enjoyment of broth as an element in its own right was a sophistication and one that endures to this day in dishes like bouillabaisse and pot-au-feu. In our Mediterranean context we can find similar examples, of which classic avgolemono is typical. In Greece only the broth, thickened with egg and flavoured with lemon, is drunk, perhaps with the inclusion of a little rice but never with the flesh of the chicken, which is eaten separately.
We have decided to turn that on its head and eat the chicken with an avgolemono sauce — a heresy to traditionalists, but an example of the deconstructional thinking that is at the heart of this book, a case of look at what is there until your eyes hurt. Only then will you see it in a different light. (Sorry, Cézanne, you were talking about apples when you said that of painting a still life but it is equally true of food.) You will find that recipe in the chapter on poultry and game, not here in soups.
Among the soups that do follow you will find elements of sophistication and simplicity, say, in the Chilled Tomato and Couscous Soup; of peasant austerity in Garbanzo and Spring Greens Soup; and of absolute freshness in Iced Cucumber, Prawn and Yogurt Soup. Our Bourride may shock a Niçois restaurateur by its innovative reconstruction, but then they can continue to eat overcooked fish if they wish. You can try the difference for yourself before deciding whether the changes are justified. If you don't travel, how can you enjoy the pleasure of coming home?
© 1995 Alastair Little. All rights reserved.