Appears in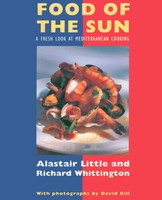 The sour salt cheeses of the Middle East are particularly good grilled or fried and are delicious in filo pastry tarts. In Greece, sharp and salt Kephalotyri is cooked with butter in small heavy pans in a ratio of four parts cheese to one of butter. The butter is first melted and the cheese then cut in strips and added to it. As the two amalgamate and start to bubble - but before the mixture browns - pepper is added liberally, followed by a squeeze of lemon. The bubbling cheese is taken to the table still in the pan and eaten scooped up with bread while still very hot and before it stiffens and becomes tough - an obvious precursor to fondue with a lot more charm. You can treat any high-fat hard cheese the same way. If you can't find Kephalotyri or Halumi, then equal amounts of Cheddar and Parmesan or Cheddar and Wensleydale or Red Leicester all work well. Feta, with its high water content, is unsuitable.
The simplest treatment of all is often the best. Halumi, a hard leathery cheese when cold, takes on a different quality altogether when pan-grilled or briefly barbecued. Heat a heavy ridged grill pan over a medium heat until very hot. Next to it put a non-stick frying pan over a low heat to get hot slowly. Brush a handful of trimmed spring onions with olive oil and toss into the grill pan, then turn with tongs to wilt and sear them. This takes no more than a minute. Put on a warmed plate and keep warm. Cut the Halumi lengthwise into 2.5 cm/1 in slices and lay these in the pan at a 45 degree angle to the ridges for a few seconds to mark. Turn over and repeat at the same angle, then turn for a third and last time, laying in the opposite direction to complete a neat cross-hatch on one side. Before the slices stick and start to melt, transfer to the hot non-stick pan, crosshatch side up, and leave for a minute or until they start to soften around the edges. Transfer to the warmed plate, season with pepper, arrange the spring onions around the cheese and serve immediately.
Goats' cheeses can also be fried, but first need to be coated in an egg-and-crumb coating. The best for the job are the log-shaped cheeses, which you cook while still fresh. You don't want them to have matured too far, or they will be horribly powerful when hot. Cut across in slices about 2 cm/¾ in thick. Roll in seasoned flour, dip in beaten egg then roll in fresh breadcrumbs. Shallow-fry in olive oil, drain and serve on a salad of sharp-tasting leaves.
Tiganites tiropites, fried egg-and-cheese triangles, are another Greek speciality. To fill 450 g/1 lb filo sheets you will need l00 g/3½ oz each hard cheese, such as Kephalotyri or Parmesan, and Feta (its water content is actually beneficial here). Grate your hard cheese and put in a processor with 4 eggs, the Feta, ¼ nutmeg grated, 1 tablespoon each coarsely chopped parsley and coriander, 1 tablespoon chopped chives and 1 teaspoon of pepper. Whizz briefly to bind.
Take the first sheet of filo, keeping the rest covered with a damp cloth, and cut into 3 strips lengthwise. Brush the first strip with olive oil. Put a heaped teaspoon of the cheese paste in the middle of the strip about 2.5 cm/1 in from one end and fold the filo back over it. Take the top corner of the fold and bring it across to make a triangle at the base line. Fold again in the opposite direction to make another triangle and again to the end of the strip for a final time to complete the triangle. Put on a tray, cover with a damp cloth and repeat until you have used up all the filling.
Heat sunflower oil for deep-frying to 180°C/350°F and fry in batches for 4-5 minutes until golden, turning once. Drain on paper towels and keep warm until all are cooked.
© 1995 Alastair Little. All rights reserved.