Appears in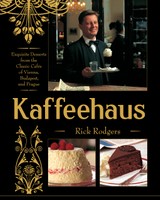 Vienna is divided into 23 districts, generating outward from the First District, home to St. Stephen's Cathedral and the Hofburg. The café's district or a landmark follows the name. The hours for establishments with live music are also listed.
A number of coffeehouses have their own websites, but they are not always in English. Use this link to hook up to some of the most best-known cafés: www.tourist-net.co.at/coffee. By American standards, it is virtually impossible to have a seriously lackluster dessert at any of the establishments below, but the places that make their own are highly recommended.
Café Bräunerhof (near the Dorotheum)
Stallburggasse 2
512-38-93
HOURS: Monday through Friday, 7:30 A.M. to 7:30 P.M.; Saturday, 7:30 A.M. to 6 P.M.; Sunday, 10 A.M. to 6 P.M.
MUSIC: Saturday and Sunday, 3 P.M. to 6 P.M. U-BAHN: Stephansplatz
Located near the Dorotheum (the premier auction house in Vienna), this is a jewel box of a café. The resident chamber music trio is wonderful, so this is the perfect spot to enjoy live Schubert with your coffee.
Café Central (near the Hofburg)
Herrengasse 14 (corner of Strauchgasse)
533-37-64-26
HOURS: Monday through Saturday, 8 A.M. to 10 P.M.; closed Sunday and holidays.
U-BAHN: Herrengasse
Famous as the center of the early twentieth-century Austrian literary world, the spacious quarters complete with vaulted ceiling gives you the feeling you're sitting in a castle rather than a coffeehouse. They offer a good selection of Warme Mehlspeisen. If you're in a hurry, try their small bakery café across the street.
Café Diglas (near St. Stephen's Cathedral)
Wollzeile 10
512-57-650
HOURS: Monday through Wednesday, 7 A.M. to 11:30 P.M.; Thursday through Saturday, 7 A.M. to 2 A.M.; Sunday, 9 A.M. to 11 P.M.
MUSIC: Friday and Saturday, 10 A.M. to 12:30 A.M. U-BAHN: Stubentor
One of the few coffeehouses in Vienna with full menus for breakfast, lunch, and dinner. Hans Diglas, whose family has been in the restaurant business for many years, knows the importance of making his customers feel that his coffeehouse is their second home. The décor keeps many original touches from its opening in 1923. The desserts are baked on the premises (actually down the street, but close enough), and are excellent. Try the Schaumschnitten.
Café Dommayer (Hietzing, near Schönbrunn)
Dommayergasse 1
877-54-650
HOURS: Daily, 7 A.M. to midnight
MUSIC: May 1 to October 31, Saturday and Sunday, 2 to 4 P.M.
U-BAHN: Schönbrunn
On a relaxing weekend afternoon, there are few experiences more Viennese than coffee at Café Dommayer, listening to the straw hatted—all women orchestra, Die Wafermädchen, "The Waltz Maidens." (The worldwide waltz craze started at the original Dommayer, which was around the corner.) The café is at the forefront of reviving old traditions, and it keeps up the connection between the coffeehouse and culture by offering theatrical and musical entertainment and literary readings. In the summer, you can see productions in their gazebo theater. If you are already visiting Schönbrunn, Dommayer is the place to go, although coffee lovers will find it's worth a special trip.
Café Frauenhuber (near St. Stephen's Cathedral)
Himmelpfortgasse 6
512-83-83
HOURS: Daily, 8 A.M. to 11 P.M.
U-BAHN: Stephansplatz
This is the oldest Viennese café in continuous operation. Music lovers will want to drop in, as both Mozart and Beethoven played here, or so they say.
Café Goldegg (Fourth District, near Belvedere) Argentinierstrasse 49
505-91-62
HOURS: Monday through Friday, 8 A.M. to 10 P.M.; Saturday, 8 A.M. to 3 P.M.
U-BAHN: Südtirolerplatz
Dating from 1910, this landmark café is on a quiet side street on the way to the Belvedere Palace. It has a quiet charm with details like inlaid wood paneling and a free-standing American-made furnace, quite a conversation piece in its time. This is a good example of a café that has changed little over the years and remains a viable part of its neighborhood without any sign of trying to attract tourists or other outsiders.
Café Griensteidl (across from Hofburg)
Michaelerplatz 2
535-26-920
HOURS: Daily, 8 A.M. to midnight
U-BAHN: Herrengasse
The first Café Griensteidl was the home to Young Vienna, a group of upstart artists who influenced thought in the last decades of the nineteenth century. When it was demolished in 1897, the regulars packed up and moved across the street to Café Central. Almost a hundred years later, this reproduction opened on the same site. It lacks the original's literary connection, but it is a mellow place to sit and watch the world go by, framed by the enormous hulk of the imperial palace known as the Hofburg, right outside the window.
Café Hawelka (near the Dorotheum)
Dorotheergasse 6
512-82-30
HOURS: Monday, Wednesday through Saturday, 8 A.M. to 2 A.M.; Sunday, 4 P.M. to 2 A.M.; closed Tuesday.
U-BAHN: Stephansplatz
The night-owl's café. The legendary owners Leopold and Josefine Hawelka nurtured their café into the closest thing Vienna has to a bohemian hangout. The art on the walls, donated by famous Austrian artists who sustained themselves on Hawelka's coffee and sweet rolls, is probably worth a small fortune. Nobel laureate Elias Canetti was a frequent customer in his youth. Be sure to try the Buchteln, which are baked fresh in small batches in their tiny kitchen and are served after 10 P.M. or so every night.
Café Imperial (near Musikverein)
Kärntner Ring 16
501-110
HOURS: Daily, 7 A.M. to 11 P.M.
Music: Saturday and Sunday, 3:30 to 6:30 P.M.
U-BAHN: Karlsplatz
In 1873, just in time for the jubilee celebrating Franz Joseph's twenty-fifth anniversary of rule, the Hotel Imperial opened in the former Palace Württemberg, and the café immediately established itself as being a favorite of the Ringstrasse's fashionable denizens. Near the concert hall of the Vienna Philharmonic, the café has played host to many musical greats. It was also the pulpit from which Karl Kraus, one of Vienna's most eccentric and egocentric literary critics, pontificated, after he left his former roost, Café Central, in a huff.
Café Im Kunst Haus Wien (in the Kunst-Haus Wien/Hundertwasser Museum)
Untere Weissgerberstrasse 13
712-04-91
HOURS: Daily, 10 A.M. to midnight
MUSIC: Wednesday and Saturday, 7 to 10 P.M.
TRAM: N
Friedensreich Hundertwasser is one of Austria's love-him-or-hate-him artists. His bright colors, shiny tiles, and irregular, undulating lines are shocking to the architectural consciousness of a city that most often looks like a concrete wedding cake. The café is part of the gift shop for the Kunst Haus Wien, the museum he built to showcase his art, and it is a lively place to partake of apple strudel surrounded by lush live foliage.
Kleines Café (near St. Stephen's Cathedral)
Franziskanerplatz 3
No telephone
HOURS: Monday through Saturday, 10 A.M. to 2 A.M.; Sunday, 1 P.M. to 2 A.M.
U-BAHN: Stephansplatz
When seeing the sights of the First District near St. Stephen's Cathedral, you might want to duck into Kleines Café (The Little Café), which lives up to its name. Two tiny rooms (it used to be only one room!) make this the antithesis of the wide-open spaces of the classic cafés. This is another jewel by architect Hermann Czech (see the MAK Café). You may recognize it as a location in the romantic movie, Before Sunrise.
Café Landtmann (near Rathaus)
24-100-120
HOURS: Daily, 8 A.M. to midnight
Music: Wednesday and Sunday, 2:30 to 5:30 P.M.
U-BAHN: Rathausplatz
This was Freud's favorite café, and it is said that he was not above holding a session with a patient here instead of in his office. Now it is the haunt of politicians from City Hall across the street and actors from the Burgtheater next door. In the small front room, you'll find relief figures of ladies sipping their coffee, a reminder of the time when the room was closed to men and their cigars. The savory food is good here, too; try the goulash with spaetzle.
MAK Café (in the Museum of Applied Arts)
Stubenring 5
714-01-21
HOURS: Tuesday through Sunday, 8:30 A.M. to midnight; closed Monday
U-BAHN: Stubentor
At the Museum für Angewandte Kunst (known by its initials MAK, or Museum of Applied Arts), this is Vienna's sleekest café. The problem of how to design a modern space that showed respect for the one-hundred-year-old coffered ceilings was overcome by architect Hermann Czech, who rose to the occasion with functional industrial lighting that didn't cover up the existing space. The MAK is more than just a place to grab a coffee while visiting the museum; it has become a destination of its own that is packed with the students from the nearby design school. The museum is a treasure house of artistically created useful objects, from fabric to jewelry. Coffeehouse lovers will want to catch the exhibit of Vienna-made Thonet bentwood furniture, which, fittingly, is one of the definitive features of the classic café.
Burggasse 10
524-94-97
U-BAHN: Burggase-Stadthalle
Ultra-modern Das Möbel ("The Furniture") is around the corner from a cobblestoned street. Nonetheless, it is surely one of the most cutting-edge and quirky coffeehouses in the world, much less Vienna. Don't fall in love with any of the furnishings—they're all for sale and your favorite chair could be gone by your next visit. Das Möbel is a crafty mix of furniture showroom and coffeehouse, and the tables, chairs, standing lamps, and other fixtures are changed every six weeks or so. Instead of a museum piece atmosphere, the neighborhood locals get a constantly evolving canvas for their comings and goings. As hip as can be, Das Möbel still exists for those daily customers, and not just for the youngsters in black clothing looking to move on to the next cool place in a month or so.
Café Mozart (near Albertina)
Albertinaplatz 2
24-100-200
HOURS: Daily, 8 A.M. to midnight
Music: Wednesday and Sunday, 2:30 to 5:30 P.M.
U-BAHN: Karlsplatz
Remember the café in the movie The Third Man where Holly Martins (Joseph Cotten) meets the gangster? Well, you wouldn't recognize it today, all spiffed up to attract the tourists. Owned by the same family as Café Landtmann, Café Mozart is a chocophile's paradise, with five varieties of hot chocolate.
Café Museum (near the Opera)
Friedrichstrasse 6
24-100-620
HOURS: Daily, 7 A.M. to 11 P.M.
U-BAHN: Karlsplatz
This stark café was one of the first major works of the Viennese architect Adolf Loos. Loos derided ornamentation, so the café is all about function over form. You can see some of Loos's buildings in Vienna, and while they seem tame today, they were shocking when they were first built. This edifice, opened in 1899, must have stuck out like a sore thumb in the middle of all the frilly buildings on the Ringstrasse. Its detractors dubbed it "Café Nihilismus." It attracted many of the top creative talent of pre-1916 Vienna, artists like Klimt, Schiele, and Kokoschka, and Loos's fellow architects Joseph Hoffman, Otto Wagner, and Joseph Maria Olbrich, designer of the Secession Pavilion across the street from the café.
Café Prückel (across from MAK)
Stubenring 24
512-61-15
HOURS: Daily, 9 A.M. to 10 P.M.
Music: Monday, Wednesday, Friday,
7 P.M. to 10 P.M.
U-BAHN: Subentor
Built at the turn of the century, the café did not make it through World War II unscathed, and in 1955, the owners gave the place a makeover in the latest style. The Sputnik-style interior is as stylistically recognizable as a nineteenth-century café's gilt and mirrors.
Philharmonikerstrasse 4
512-14-87
HOURS: Daily, 6:30 A.M. to 11:30 P.M.
U-BAHN: Karlsplatz
Sacher is on the short list of any chocolate lover's stops in Vienna. The red velvet walls of the café give a rosy glow to the proceedings. The Sacher has a shop that sells the famous Sacher cake in wooden boxes for transport.
Café Savoy (near Naschmarkt)
Linke Wienzeille 36
586-73-48
HOURS: Monday through Friday, 5 P.M. to 2 A.M.; Saturday, 9 A.M. to 6 P.M., then 9 P.M. to 2 A.M.
U-BAHN: Kettenbrückengasse
Does the Café Savoy have the biggest mirrors of any coffeehouse in Vienna? It must have had the heaviest chandeliers, as a hole in the ceiling shows. As the evening proceeds, the clientele becomes mostly gay. This café is right near the Naschmarkt, Vienna's outdoor market and a must-see for food lovers.
Café Sperl (near Theater an der Wien)
Gumpendorferstrasse 11
586-41-58
HOURS: Monday to Saturday, 7 A.M. to 11 P.M.; Sunday, 3 P.M. to 11 P.M.
U-BAHN: Kettenbrückengasse
Café Sperl is perhaps the most classic of the classic coffeehouses. The owners really never had any extra money to refurbish the place, so when it was chosen as a landmark coffeehouse in 1983, much of the original work was in place. It has been gloriously returned to its cozy atmosphere, with huge booths, a frou-frou service counter, and a parquet floor. You'll see all of the components of the traditional Kaffeehaus here: the L-shaped design with one room reserved for billiards; marble tables; and wrought-iron coat stands. If you're here during the fall, try the plum cake.
Café Stein (near Votivekirche)
Währingerstrasse 6-8
319-72-41
HOURS: Daily, 7 A.M. to 2 A.M.
U-BAHN: Schottentor-Universität
Ladies of a certain age with their pet doggies in tow do not frequent Café Stein. This is the ultimate student café, situated in the streets behind the university. It's nothing like the small, dark holes posing as cafés that I frequented in college, except for the walls plastered with posters for poetry readings and political rallies; it's big and sprawling and choked with cigarette smoke. Be ready to talk loudly, as the rock and roll on the sound system is never at low volume. Don't miss the bathrooms, which seem to be purposely designed for chance encounters with the opposite sex (it will take more than a few seconds to figure out what door is the portal to which gender's toilet). Café Stein also has a cybercafé tucked away upstairs.
Café Tirolerhof (near Albertina)
Tegetthoffstrasse 8
512-78-33
HOURS: Monday to Saturday, 7 A.M. to 9 P.M.; Sunday, 9:30 A.M. to 8 P.M.
U-BAHN: Karlsplatz
Even though it's in the heart of Vienna, you won't see many tourists in this coffeehouse. It's not the most luxurious café, but it has soul. The apple strudel is as good as Grandma's (if your grandma was Viennese).
© 2002 All rights reserved. Published by Echo Point.