Appears in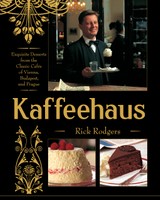 The old Austro-Hungarian empire has been gone since 1918, but in the empire's capitals of Vienna, Budapest, and Prague, its most beloved and delicious tradition— the coffeehouse—lives on.
An Austro-Hungarian café (known as a Kaffeehaus in Austrian, kávéház in Hungarian, and kavárna in Czech) is living history. It was from the Café Dommayer that the lilting music of Strauss, inseparable from central European culture, first caressed Viennese ears. The violent 1848 Revolution erupted from Budapest's Café Pilvax. The compeers of Václav Havel and his compatriots organized Czechoslovakia's Velvet Revolution over coffee at the Café Slavia. The intelligentsia of all three cities used the cafés as their living rooms, occasionally laying down their pens to argue the latest developments in literary, art, and music circles. Historical and geographical names jump out from the menu—Malakoff, Sacher, Dobos, Maria Theresia, Linz, Rigó Jancsi, Pozsony—and they continue.
Today's coffeehouses, after an admittedly shaky period following World War II, are now as vital and vibrant as they have ever been. Strolling through Vienna, Budapest, and Prague, the three main cities of the empire, you'll see countless cafés, each with its own style and personality. They may remind you of your own favorite coffeehouse back home, where locals sit and sip, slowly flipping through newspapers and magazines or gossiping with their friends. An Austro-Hungarian coffeehouse may have a familiar feel, but there are tangible differences between our homegrown version and the real thing.
First, the coffeehouse tradition is well over three hundred years old, with customs so entrenched they are almost choreographed. At a true Kaffeehaus, there is no such thing as a quick cup of coffee; coffeehouse habitués never rush through their cup. Your coffee comes in a china cup on a gleaming metal tray, always with a glass of cold water that your waiter refills from time to time. If you need a fast coffee to go (a condition that is met with the utmost sympathy), you must search out an espresso bar, an entirely different venue.
The desserts served at a Kaffeehaus set it apart from its peers throughout the world. The dessert display can be a modest selection of a few specialties of the house, or it can be an impressively dramatic exposition of towering Torten. Your choice of dessert could be the hardest decision you have to make all day. Should it be a thick, intensely chocolate slice of Sachertorte, one of the world's most beloved cakes? Perhaps freshly baked apple strudel (or grape or cherry or cheese)? Or the sugar-dusted Gugelhupf? A chocolate-glazed "Indian" puff, a wedge of jam-filled Linzertorte, a slice of vanilla-scented cheesecake, or a square of rustic but satisfying plum cake? They are all there in their tempting glory. Austro-Hungarian pastry shares very few of its masterpieces with French pâtisserie. It stands proud and independent, and it could be argued that the French picked up plenty of baking secrets from the skilled Viennese bakers.
If the Viennese had a food pyramid, desserts would be the main category. They are a way of life, not just a treat at the end of meal. The Austrians have the equivalent of British teatime, the Jause (pronounced YOW-sah, from the Czech word jouzina, or lunch). Every afternoon at four o'clock, the city's coffeehouses and bakeries (which always seem to be bustling and filled to the brim regardless of the hour) get a fresh infusion of customers. While British teatime will include savory snacks, Jause is always sweet, stemming from the period when filling cheese- or fruit-based meals were served for dinner on meatless Fridays. Adherence to the Catholic rules of abstinence and fast was paramount, as the emperor of Austria was also the emperor of the Holy Roman Empire, a title conferred by the pope himself.
This book is Vienna-centric for many reasons. Vienna was the seat of the royal Hapsburgs, who controlled Austria, Hungary, and what is now the Czech and Slovak Republic (but was called Bohemia and Moravia during the days of the empire). The court influenced everything that happened in Prague and Budapest. There was a healthy exchange of recipes among these cities—the sweet noodles of Bohemia, the tortes of Vienna, and the strudels of Hungary are staples in all three cities. The range of desserts is enormous in Vienna, still impressive in Budapest, but not as expansive in Prague. (Unfortunately, during the Communist era, desserts were considered the food of the bourgeoisie, and, to be frank, many of the Hungarian and Czech bakeries lost their flair for fine baking. But the best, such as Budapest's Gerbeaud, have been restored to their former glory.) Because you will be able to find every one of these desserts in Vienna, I have chosen to give the Austrian translation of the title for most of them. If a dish is clearly from Hungary or old Bohemia, I use the Hungarian or Czech name.
Finally, Vienna had an enormous influence on world thought, although it is waning as new schools of thought develop. But there is no discounting the importance of the Viennese in modern international culture. The practice of psychiatry was started by Sigmund Freud and Victor Adler. Constantly feuding over the superiority of the subconscious versus the superiority complex, the two did not speak to each other when they ran into each other at Café Landtmann. Hollywood would have been less stimulating without movies directed by Billy Wilder, Otto Preminger, and George Cukor. Gustav Mahler, Alban Berg, and Anton Bruckner changed twentieth-century music. The recent film success, The Grand Budapest Hotel, was based on the work of Stefan Zweig, who, during the 1930s was the world's most translated writer. Theodor Herzl developed the idea of the Zionist state. The words of Hugo von Hofmannsthal are regularly sung whenever Richard Strauss's operas are performed. The operettas of Johann Strauss the younger, Franz Lehár, and Oscar Straus were not only European favorites, but Broadway and Hollywood hits.
This cookbook is about the classic Kaffeehäuser. Yes, there are contemporary cafés, but they are the children of the old guard. Even if the trappings of the new cafés are sleek and modern, the menu will still have apple strudel and not lemongrass sorbet. It should be said here that not every place that serves dessert and coffee is considered a Kaffeehaus. There are many categories, including pastry shops, bread bakeries, espresso bars, and café restaurants. These distinctions are very important to the Europeans if not to Americans or other visitors. Also, this is not meant to be a complete cookbook on the home-baked desserts of the three countries, but a collection of recipes for the desserts you are most likely to find at coffeehouses and bakeries. Recipes contributed by home bakers have been included only if they can be found on coffeehouse menus.
Austro-Hungarian desserts are a part of my heritage. My grandmother was born in Liechtenstein, the tiny principality nestled between Austria and Switzerland. Even though Liechtenstein is independent and managed to stay neutral throughout the world wars of the last century, it has always been influenced by the politics and culture of nearby Vienna. In fact, the principality was formed in 1719 when the emperor rewarded the Liechtenstein family with their very own fiefdom for their services to the empire.
My great-aunts were wonderful bakers in the Viennese style. Relatives still argue over who was the better baker: Auntie Gisela, Auntie Trudy, or Auntie Erna? Auntie Gisela's specialties would have made any bakery jealous. She often made puff-pastry horns filled with whipped cream (Schaumrollen) and homemade Kipferln (Viennese croissants), and she occasionally graced the table with a tall, light Gugelhupf. They were all accompanied by strong coffee topped with a generous spoonful of whipped cream. I recently learned, however, that my great-aunts really weren't great bakers in the old country. Once they were here, they baked regularly for two reasons. First, it gave them a connection to their past. The second, less romantic, reason was that a couple of my aunties became domestics. Their employers obviously assumed that they would know how to bake Viennese pastries, so they had to learn, and fast!
When I decided to write this book, I initially wanted to expand upon my family's recipe files. On my many research trips to central Europe, happily working at some of the world's best bakeries, I realized that I had opened a sugar-coated Pandora's box. This couldn't just be a collection of dessert recipes. When I interviewed professional and home bakers, they always talked in the context of a recipe's history and its place in their lives. When I went to a coffeehouse, even though they were all different, the experience was almost a recurring ritual, from the floor plan to the menu. Everything was about tradition. There was no need to add fancy new creations to the menu. Who doesn't love a good Sachertorte?
The broad term encompassing all Viennese desserts in Süßspeisen, literally "food or meals made from sugar," but can also mean a dessert that incorporates little or no flour. Within Süßspeisen is Mehlspeisen, "food or meals made from flour." Austro-Hungarian cookbooks often separate the desserts into two distinct categories, warm and cold. While there may be a few overlaps, the chapters in this book generally follow the Viennese categorization, concentrating on the Mehlspeisen that are most often served in the classic coffeehouse.
The recipes start with the basic batters, doughs, and icings. The "cold" flour-based desserts start with simple cakes, then move on to fancy tortes, working their way through the Mehlspeisen family, offering strudels, sweet breads, cookies, and doughnuts along the way. "Warm" desserts are represented by dishes that may be uncharted territory for many American bakers: pancakes (crêpes), sweet omelets (which are actually more like warm, fluffy cakes than the French egg dish), sweet dumplings and noodles (much beloved by the Czech), puddings, and beverages.
One day I was baking with my friend Wolfgang Leschanz, who had worked at both Demel and Sacher (which is like a star baseball pitcher who has played for both the Yankees and the Mets). We were talking, of course, of the importance of tradition in the Austro-Hungarian pastry kitchen, and of how many recipes are hundreds of years old.
"As one of my master bakers used to say," Wolfgang remarked, "If you keep the flame burning, you won't have to worry about cleaning up the ashes."
The coffeehouses of Vienna, Budapest, and Prague are keeping the fire alive.
© 2002 All rights reserved. Published by Echo Point.