Appears in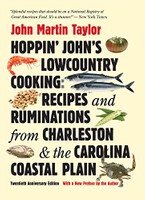 I can think of no vegetables more southern than greens, no food dearer to the soul of the Lowcountry. Collards, spinach, mustard and turnip greens, beet tops, kale, dandelion, dock, sorrel, chard, and cabbage—and innumerable potherbs—appear throughout the year on the tables of rich and poor alike. Meggett, South Carolina, about 20 miles south of Charleston, was once known as the Cabbage Capital of the World, and Toogoodoo Farms, nearby, continues to produce not only cabbage but also kale, mustard, collards, turnips, and spinach.
It is said that greens are best after a frost, which means after Thanksgiving in the Lowcountry—after Christmas in Charleston. But even in the slick gourmet markets you see big bunches of locally grown greens throughout the year. Pickup trucks piled high with greens for sale are a common sight in Charleston, especially in black neighborhoods.
Wild dock is cooked similarly to the spinach recipe. Folk wisdom says that it will purify the blood, tighten loose teeth, and improve eyesight. Lowcountry "root doctors" still exist. Their prescriptions often include greens. Dr. Julia Morton has written a book entitled Folk Remedies of the Low Country, which tells of soups made with the young leaves of "wild okra," sassafras, and "dog's tongue."
Eating hoppin' john on New Year's Day will bring good luck, but it is the greens that accompany the meal that ensure financial reward. And on that day those greens must be cooked with a smoked hog jowl and served with corn bread and twice-baked sweet potatoes. If you ask a Sandlapper to complete the phrase, "a mess o'———," he will unhesitatingly reply, "greens!"
A bunch—or mess—of greens is usually about 8 plants, weighing about 5 pounds. As our soil is very sandy here, the greens often need careful washing—though not nearly so much if picked during a dry spell, when there has been no rain to splash the sand up in the plants. To clean greens, rinse them thoroughly under running water, discarding any yellowish or wilted leaves and tearing or cutting out any thick pieces of the stalks from larger greens such as collards. Then cover the greens with water and continue filling the sink with as much water as it will hold. Shake the greens gently around in the water so that any dirt sinks and repeat the process as many times as necessary until the greens are free of grit.
It is true that greens are traditionally cooked with salted or smoked pork, but Erlene Davis of Walterboro, South Carolina, says that meats, both cured and fresh, are specific to the greens. For example, for mustard greens she uses a smoked hock; for collards, smoked neck bones; and with turnips, a piece of fresh pork. Salted fatback, "sliced thin and fried out a little," is used with fresh peas and beans.
To cook a mess o' greens, follow the general guidelines for collards.
© 1992 All rights reserved. Published by UNC Press.