This is an approximation of what my grandmother needed to feed her family of five daughters, plus her sister and her three children, not to mention a large household staff.
A cook, known and addressed as mistri (cooks in Parsi households were mostly Goan).
A cook's helper, sometimes known as the matey, a British nautical term.
A bearer or butler in a starched white uniform for serving. Extra bearers for large parties.
A wood- or charcoal-burning cast-iron range with an oven and, later, a gas stove, the gas piped in by the city.
A sigri, a portable cylindrical grill about 18 inches high, for grilling or for an extra heat source.
A kerosene stove (for emergencies or an extra heat source).
Tinned copper vessels, deep, with lids like dinner plates to hold water or coals. Tinning was and still is done by wandering kalai wallas, tinsmiths, who can set up shop in a three-foot-square space with a fire, bellows, and some tin.
Straight-sided shallow tinned copper vessels with flat lids, no handles.
Khumchas, circular trays with straight sides for working dough and other uses. Made of tinned copper or German silver.
Various tongs for lifting lids or turning chapatis; perforated spoons, usually metal.
A cast-iron lohri or tava, a lens-shaped griddle about a foot across, for cooking chapatis or dry-roasting anything.
Frying pans like woks, karhais, in sizes geared to the household (made of cast iron, tinned copper, or possibly aluminum, in diameters ranging from 8 to 16 inches).
A grinding stone, masala no patthar—slab and roller, the surface to be roughened from time to time by an itinerant worker, the tankiwali, who would go from house to house announcing her presence.
A large domed aluminum steamer (on the bottom, Queen Mary in profile) for a sweet called sandhna.
A mortar and pestle, made of heavy brass.
Knives to suit the cooks.
A rotary eggbeater (although egg whites and cream could be whipped up with a fork in a soup plate, too).
Miscellaneous work bowls and plates, molds for desserts, baking dishes.
Large Chinese storage urns for grains; brass canisters and boxes for storing other staples.
An icebox, later a refrigerator.
A perforated vessel for cheesemaking.
Strainers and colanders of various sizes.
A dal masher made of wood.
A slender wooden rolling pin and circular board for rolling out chapatis and puris.
A hand-cranked meat grinder.
A household balance and various weights and measures for grains and liquids: these would be in various systems, Indian and imperial.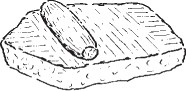 What my mother thought essential for her household of three was most of the above, especially the tava, the masala stone, the mortar and pestle, and the rolling pin. In addition to the old tinned copper vessels, there were aluminum and stainless steel pots made in traditional Parsi shapes. The big change came in the 1950s with the pressure cooker, which was supposed to change life completely by saving time and fuel. I don't know a single Indian urban household now that doesn't have a pressure cooker put to constant use. About thirty years ago, the demand for natural gas outstripped the supply, so the city stopped piping it in. Everyone now cooks with propane, the procuring and changing of cylinders a constant bother. Under these circumstances, a pressure cooker makes great sense.
My mother's generation ushered in an era of electrical appliances—refrigerators were a must, as were toasters, mixers, and blenders, most of which were kept off-limits to the kitchen staff and as a result often rusted from disuse. In the sixties, a new kitchen essential came to the fore, the mixer-grinder, which could do the job of a masala stone, something the Western blender failed to do. The first and best of these was invented by a devoted engineering genius so that his wife could continue making first-rate Indian food in Germany, where they happened to be posted. Known as mixies, these grinders have now become standard equipment in urban Indian kitchens, where the roar of electric motors is now replacing the music of the masala stone.
What do I consider essential for Parsi food and Indian food in general? Kitchen supply stores make fortunes on our current love for specialized equipment, but you can open your Bombay kitchen with pretty much what you have on hand plus a visit to a supermarket, an Indian grocery, or the Internet.
For the recipes that require the prepared pastes known as masalas, it helps to have a food processor or, even better, an electric wet-dry grinder such as the Sumeet Multigrinder (see Sources). Before the Sumeet I used a food processor, but the results were not the same. Blenders and food processors cut food up into ever-smaller pieces suspended in liquid, and hard ingredients like coconut can never be ground to a fine paste. The Sumeet and its equivalents have blades designed to grind wet and dry ingredients together as would happen on a stone. This was its test: I made a coconut-based green chutney (lili chatni) in the newly unpacked Sumeet and presented it to my mother in a perfect ball on a plate. She looked admiringly at it, tasted it, and asked when I'd become so handy with a masala stone. A food-processor coconut chutney can't be formed into a ball because too much water needs to be added to keep the mixture moving.
I love my Parsi utensils, the tinned vessels, the trays, tongs, slabs, and rollers, most of them from my grandmother's kitchen, and I enjoy their beauty and the sense of continuity; but cast-iron skillets and heavy stainless steel-lined pans such as All-Clad are my kitchen mainstays. For frying, I have a range of karhais, the round-bottomed Indian frying pans, but I also use a wok. I use an electric coffee mill to grind dry whole spices and nothing else, and I have many more devices for grating coconut than I need.
© 2007 All rights reserved. Published by University of California Press.