Appears in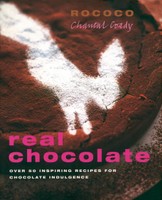 I was so inspired by what I witnessed in Italy in 1994 that I decided it was time for Rococo to get serious and start producing as much as possible in-house. I had a little knowledge about the technical side of chocolate making, but could see that many of the best chocolate makers were, in fact, trained in a completely different discipline, and were self-taught.
I gave a very basic training to Joanna Gaskell, our new chocolate maker, who pretty quickly knew much more than I did about tempering chocolate and making truffles. We built a tiny chocolate kitchen in my house, and soon we needed another chocolate maker. Today Ruth Morgan, who originally trained as a sculptor and designer, has now joined Jo.
The kitchen is really too small now and we are considering a new space. There we will be able to produce a larger range of chocolate, but still all made by hand. Rococo has jumped through the necessary hoops to get Organic Certification on the Artisan Bars, made using really fine organic chocolate and different herbs and spices, combined to achieve balance and flavour.
© 2003 Chantal Coady. All rights reserved.