Appears in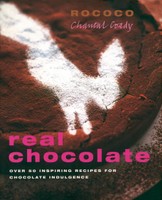 As large a slab of marble as you can reasonably manage. The Rococo slab is about 1 metre by 2 metres, but a much smaller one will do. However, the bigger the slab the easier it is. At home, I have one small piece of marble, bought from IKEA, measuring 60 × 40 cm. Tempering on it is really a bit fiddly, but it is possible.
A digital thermometer, which can be found in any serious catering shop and should not break the bank (around £10).
A large palette knife.
A triangular spreading knife/paddle/scraper - a large plasterer's filling knife from a DIY shop would be as good as anything, but it must be flexible.
Several stainless steel or Pyrex bowls.